Re-live the Pirates' first playoff game in 21 years
The Pirates topped the Reds 6-2 in the NL wild-card game. Here's how it unfolded via our live blog.
More: CBSSports.com Experts' Picks | Reds at Pirates: Who has the edge?
The 2013 postseason officially got underway with the NL wild-card game on Tuesday night. In the first playoff game in Pittsburgh in 21 years, the Pirates topped the Reds 6-2 and advanced to face the Cardinals in the NLDS.
Your three pulchritudinous Eye on Baseball bloggers -- Mike Axisa, Dayn Perry and Matt Snyder -- were here to provide running commentary on the Buccos' big win. 
Let's roll tape ... 

And that's a wrap. The Pirates win 6-2 and advance to face the Cardinals in the NLDS. The Reds call it a year (a good year, let's not forget). Here's your box score, and here's your GIF (HT: @JollyRogerBlog) ... 

Regarding those two Pirates fans who just interfered with balls in play ... 
Pirates fans are a bunch of ball touchers.

— Productive Outs (@ProductiveOuts) October 2, 2013
/snaredrum

Choo homered, but the Reds still have less than a one percent chance of pulling this off ... 

Source: FanGraphs

What say you? Any non-Cincy, non-St. Louis fans rooting against the upstart Pirates?
If you are outside of Cincy or St. Louis and not secretly rooting for the Pirates, you have no soul.

— Kevin Cooney (@KevinCooney) October 2, 2013

Regarding Russell Martin, author of two home runs on this night ... 
Russell Nathan Jeanson Coltrane Martin Junior. Okay, I guess I had enough characters.

— Cee Angi (@CeeAngi) October 2, 2013
Yes, that's his real name, and, yes, his real name is triumphant.

Stretch time, and the Pirates have roughly a 98-percent chance to advance to the NLDS ... 

Source: FanGraphs

Joey Votto's had a rough night, in no small part because he's run up against one of the toughest left-handed sliders on the planet. Somehow, Votto has become a bit of problem in the eyes of some Cincy fans (a vocal minority, I must assume). This is patently ridiculous. If you think a guy with a .435 OBP who reached base almost 300 times is any kind of a soft spot in the lineup, then you need remedial baseball lessons. You also need to be quiet until you've had those remedial baseball lessons and taken them to heart. Period, paragraph. 

For your consideration: 
If everyone had to bat lefthanded, Liriano would already be in Cooperstown.

— Marc Carig (@MarcCarig) October 2, 2013

It's not yet trending, but #FireDusty is getting a bit of a workout on Twitter. Settle down, people.

After five, the Pirates are better than 90 percent to win ... 

Source: FanGraphs

No surprise here ...
Attendance tonight: 40,487. Largest ever at PNC Park.

— Matt Maisel (@Matt_Maisel) October 2, 2013

Time to sum up the game so far in pictures ...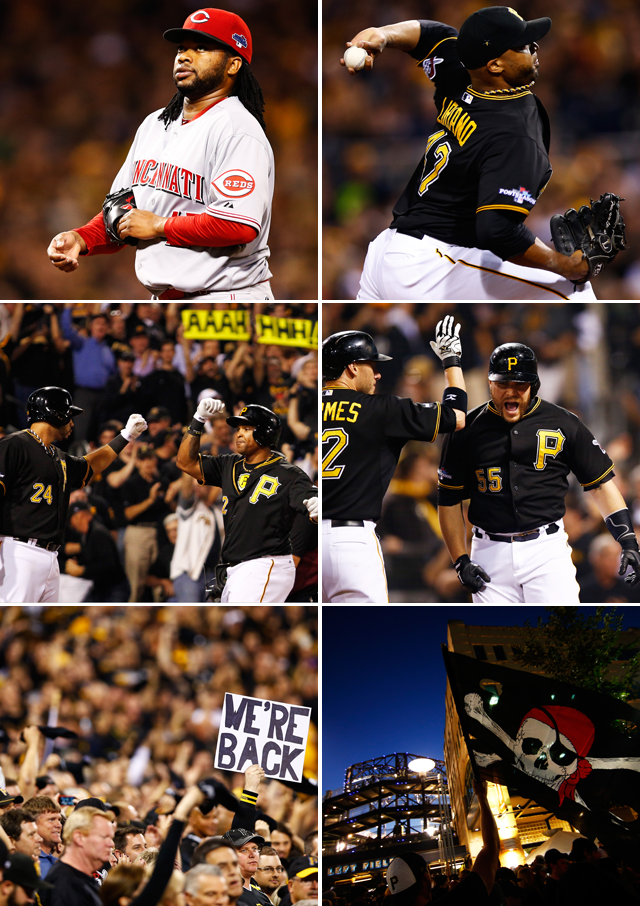 Pirates plate their fourth run. As the TBS broadcast noted, the Buccos are 69-17 when they score four or more but well under .500 when they score three or fewer.

Sean Marshall in to relieve Cueto. Here's why it's a dubious decision:
FG Live blog reader: "Marshall has two syllables, easy to chant. Bad call by Dusty."

— David Cameron (@DCameronFG) October 2, 2013

Here's your win-expectancy chart after 3 1/2 in Pittsburgh ... 

Source: FanGraphs
Buccos still have better than an 80-percent chance of winning.

Re: that Jay Bruce two-out RBI, lefties this season batted .131 against Liriano. So that was as unlikely as it was clutch. 
Sounds about right ... 
Dusty Baker: "Everyone is hitting the hell out of your pitches, do you sense that to?" Cueto: "No." Baker: "Okay. I'll keep you in."

— SportsPickle (@sportspickle) October 2, 2013
Seriously, treat this like the seventh game of the World Series in terms of having a quick hook and being willing to burn through the bullpen. You worry about the Division Series only if you get there. Baker's been too patient with Cueto already. 

So the PNC Park crowd is insanely loud. They're also quite possibly rattling Cueto. Seriously, give a listen to the moments before and after Russell Martin's home run ... 
Wow.

That was one heck of catch by Todd Frazier. Could have been an even bigger inning if not for his snare ...  
down goes frazier! and he comes up with the catch while diving over the railing. reds needed that. 2-0 bucs.

— Jon Heyman (@JonHeymanCBS) October 2, 2013

2-0 Pirates after two, which, obviously, makes them the favorites to win ... 

Source: FanGraphs

Here's that Marlon Byrd homer served four ways!
On that topic ... 
Est Distance is 361ft. #ByrdistheWyrd

— Pittsburgh Pirates (@Pirates) October 2, 2013

Already eight swinging strikes for Liriano. Dominant so far. Most good starters of course tend to start strong, but that's crazy strong.

So after one inning, here's your win-expectancy chart courtesy of FanGraphs ... 

Source: FanGraphs
As you'd expect, it's pretty much 50-50 with the score tied at zero.

On the subject of Johnny Cueto, here's our favorite Johnny Cueto pic ... 

I'd say the city of Pittsburgh is into this team ... 
People lined up on the Clemente Bridge to sneak a peek at this game.

— ctrent (@ctrent) October 2, 2013

ICYMI, the Pittsburgh Penguins of the NHL paid a little tribute to the hometown Pirates by playing "wiffle ball on ice" ... 
Thanks to our compadres at Eye On Hockey for the find. 

File under "for what it's worth" ... Current Reds hitters are batting .236/.297/.354 for their careers (132 total plate appearances) against Pirates starter Francisco Liriano. Pirates hitters, meantime, are batting .222/.296/.365 for their careers (227 plate appearances) against Cincy starter Johnny Cueto. 

It's the playoffs, you guys!  
Here is each team's 25-man roster for the game and here are the starting lineups:
2013 NL Wild-Card Game: Starting Lineups

Cincinnati Reds

Pittsburgh Pirates

1. CF Shin-Soo Cho
1. LF

Starling Marte

2. LF

Ryan Ludwick

2. 2B

Neil Walker

3. 1B

Joey Votto

3. CF

Andrew McCutchen

4. 2B

Brandon Phillips

4. 1B

Justin Morneau

5. RF

Jay Bruce

5. RF

Marlon Byrd

6. 3B

Todd Frazier

6. 3B

Pedro Alvarez

7. SS

Zack Cozart

7. C

Russell Martin

8. C

Ryan Hanigan

8. SS

Clint Barmes

9. RHP

Johnny Cueto

9. LHP

Francisco Liriano
Show Comments
Hide Comments