Red-hot Brewers re-defining 'strange' as roll continues
After a 2-8 start that included failing to score over 32 consecutive innings during one stretch, the Brewers can't lose. Not that it's been a season of extremes in these bizarre first three weeks for Milwaukee, but did you hear the one about the shortstop stealing first base?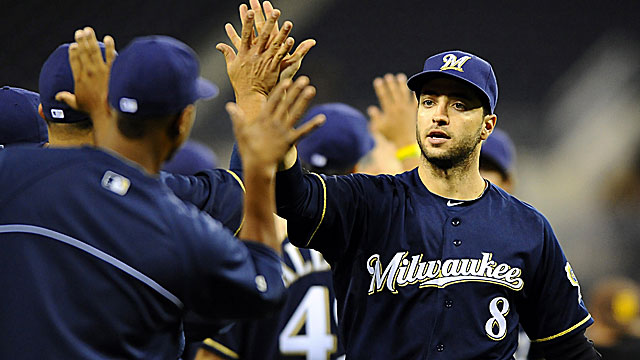 Strange doesn't even begin to cover it.
And don't be a wise guy. The "strange" here does not refer to the Milwaukee Brewers currently being all hopped up on an eight-game winning streak. They've done that before, most recently in 2008.
No, what is totally bizarre here in Milwaukee's clubhouse is, well, several things.
Not that the Crew skidded out of the gate, but after the first 10 games of the season, I don't think they were even listed on Baseball-Reference.com any longer. You had to locate a copy of the Dead Roadside Animal Spotter's Guide to find them (and don't even ask what WAR looks like in that).
Then, after that 2-8 start, from out of nowhere emerged … this.
At no time in major-league history has a team started 2-8 and then won eight in a row.
"It's been interesting," deposed closer John Axford said.
"Interesting" in the way a two-headed lady at the circus is interesting.
Within their first 18 games, the Brewers already have:
-- Failed to score over 32 consecutive innings during one stretch.
-- Watched on-base machine Ryan Braun suddenly do his best Rob Deer impression by going, into Tuesday night's game, 7 for his past 36. With five of those seven hits being homers … and 17 of those 36 at-bats culminating in strikeouts.
-- Scratched their heads when rookie shortstop Jean Segura  stole first base against the Cubs on Friday in a wacko inning during in which he both stole second and then was caught stealing second.
-- Congratulated outfielder Carlos Gomez when he was named Monday as the National League Player of the Week after going 9 for 18 with two homers and three RBI.
At this point, you may ask yourself: Which is more nuts, Segura stealing first (in a play historians say has never, ever happened before in a big-league game) or Braun becoming Mr. Whiff-a-licious?
"I'd have to go with Braun," Brewers closer Jim Henderson said. "Just because Segura is young and you don't see Braun in that many slumps."
Despite the air he's getting, it was Braun's two-run, eighth-inning homer in St. Louis on April 14 that sent the Brewers into a sharp U-turn.
Trailing 3-0, facing fire-breathing reliever Trevor Rosenthal and staring straight at a 2-9 start, Braun jacked a homer that put the Brewers back in the game, Yuniesky Betancourt pounded a game-tying double in the ninth (scoring Gomez) and Jonathan Lucroy blasted what turned out to be the game-winning homer in the 10th.
The Brewers have not lost since.
"When you're not swinging the bat well and you're winning ballgames for your team with hits, it's huge," Brewers manager Ron Roenicke said of Braun.
"Braun can get 200 at-bats and strike out five times," Gomez said. "You're not going to see many times in his career when he strikes out four times in one game."
It's happened exactly once in 898 career games for Braun: last Tuesday, against the Giants.
Whatever, just when things looked bleakest, the Brewers wriggled out of their chains and haven't looked back.
Starting well was a big point of emphasis this spring given how 2012 played out for the Brewers. They started 35-42, fell to eight games out in the NL Central by the end of June and showed few signs of life.
So they shipped Zack Greinke to Anaheim for a three-player package that included Segura (whoo, boy, are the Angels going to regret trading him one day). Then they closed fast, going 36-23 from Aug. 1 on.
Last thing they wanted to do was replicate their early-season snooze of a year ago.
"I think we were trying to get the feel early," Axford said of the 2-8 start. "In spring training we had so many players gone to the World Baseball Classic that we never really got a team feeling."
The Brewers sent an inordinately high number of players -- 15 -- to the WBC. Including both of their catchers, Lucroy and Martin Maldonado .
So Axford's point is well-taken. Plus, the Brewers all season have been without their four and five hitters, Corey Hart (right knee) and Aramis Ramirez (left knee). Ramirez right now appears a week or so away from returning. Hart's target date remains late May or early June.
Meantime, Nori Aoki and Rickie Weeks have fallen into deep slumps. Aoki was given a night off Monday in San Diego.
But Milwaukee's pitching has gotten better and better. The bullpen ranks sixth in the NL with a 3.51 ERA. Axford (0-2, 10.57 ERA, 0 saves) has been good enough lately that Roenicke again will consider him as closer, though Henderson (2-0, 1.00, four saves) has taken a stranglehold on that for now. And Kyle Lohse (1-1, 2.52 in four starts) is doing exactly what the Brewers hoped in stabilizing a rotation that took awhile to find its footing.
In winning their eighth straight Monday to start this six-game trip to San Diego and Los Angeles, the Brewers held their opposition scoreless in the first inning for a 13th game in a row. Milwaukee now has outscored opponents in the first inning 16-1.
If Yovani Gallardo -- who had some issues of his own last week when he was arrested on a drunk driving charge -- stiff-arms the Padres Tuesday, it will help produce Milwaukee's first nine-game winning streak since 2003.
"It's even difficult to look back to our bad start now that we're on a roll," Henderson said of the nearly forgotten first 10 games. "The feeling we have now is like when we were on a roll at the end of last year. A lot of people have that confidence.
"I think all it took was rattling off a few wins."
Now all they have to do is learn Roenicke's sign for stealing first.
"I'm not sure we know that one," Axford said, chuckling. "That might just be for Segura."
Show Comments
Hide Comments
Our Latest Stories
On this date in 2001, Randy Johnson inadvertently hit a bird with a spring training fastba...

Giants southpaw Will Smith likely needs Tommy John surgery

It's unclear whether Kang will be join the Pirates at all in 2017
Can the reigning NL East champs take home the flag again?

Valencia has been considered a platoon player for much of his career

Jones said USA used Puerto Rico championship shirts and parade plans as motivation for the...