Red Sox-Cardinals World Series Game 5 weather: Beautiful
With a zero percent chance of rain, low winds and temperatures in the low- to mid-50s, Game 5 of the World Series will be unaffected by weather.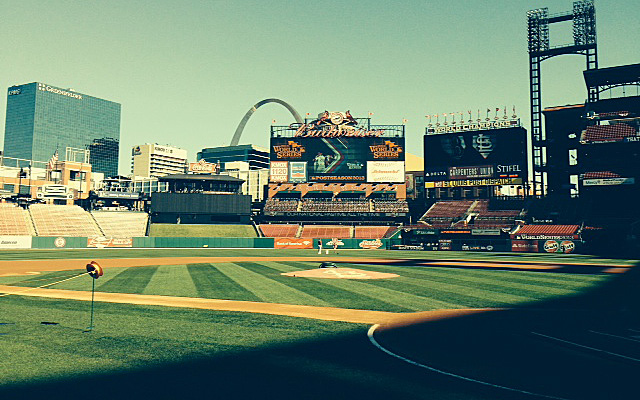 World Series Game 5: Pitching preview, Wainwright vs. Lester
ST. LOUIS - Game 5 of the 2013 World Series between the Boston Red Sox and St. Louis Cardinals is set for 8:07 p.m. ET/7:07 p.m. local time in Busch Stadium Monday night. As far as the weather, we've been blessed thus far through four games and that's a trend that will continue at least through Game 5.
Because, seriously, it's gorgeous today in St. Louis -- with the photo evidence above to prove it.
Once again, the weather.com hourly forecast shows a zero percent chance of rain and low winds throughout the game.
It's not even supposed to be that cold, either, as the temperature isn't expected to dip below 50 until 11 p.m. local time -- or nearly four hours after the first pitch.
So, once again, Mother Nature is kindly staying out of things and letting the Red Sox and Cardinals decide the Fall Classic.
Show Comments
Hide Comments
Our Latest Stories
One day after his tragic death, the Marlins will honor their fallen teammate

Let's take a look at what's on tap in Major League Baseball's final week

Maybe they could limit the fights over nothing and be more like Jose?
Israel beat Great Britain 9-1 in Sunday's qualifying round final

The Dodgers walked off with the NL West title during Scully's final home broadcast

How could the huge-market, defending NL West champs be an unlikely division champ?