Red Sox clinch playoff berth, now second team in postseason
The Dodgers clinched a playoff berth Thursday afternoon. Thursday night, the Red Sox joined them, as now two of the 10 playoff spots are accounted for.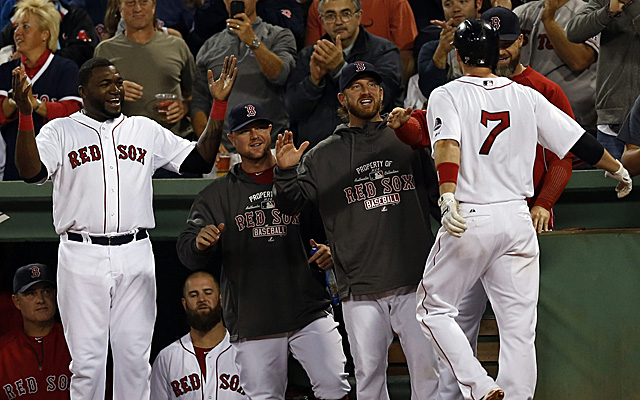 Related: Uehara now lockdown closer | Heyman: Cherington was star of offseason
In 2011, the Red Sox missed the playoffs after a historic September collapse. In 2012, a disastrous season ended with a 69-93 record, a last place finish and a managerial firing.
In 2013, the Boston Red Sox are going back to the playoffs.
With a 3-1 win over the Orioles in Fenway Park Thursday evening, the Red Sox clinched at least a wild card spot. They entered Thursday with a magic number of three in the AL East, so they could have that nailed down as soon as Friday. They also came into Thursday with a 2.5-game lead for the best record in the entire AL, so they aren't done playing meaningful regular-season games by any stretch.
In fact, with the World Series home-field advantage going to the American League -- thanks to the All-Star Game victory -- the Red Sox could well end up with home-field advantage throughout the entire postseason.
For now, though, it's about the playoff berth.
Talking about that can't be done without mentioning 2012. Bobby Valentine as manager was an unmitigated catastrophe. During the course of the season, Kevin Youkilis , Adrian Gonzalez , Carl Crawford and Josh Beckett -- among others -- were shipped away. Valentine was, almost mercifully, fired. And then general manager Ben Cherington retooled the roster with several free agency deals that were cheap and short on the number of years.
New faces Mike Napoli , Stephen Drew , Jonny Gomes , Shane Victorino , Ryan Dempster , Koji Uehara and Jake Peavy have helped to varying degrees. Holdovers David Ortiz , Dustin Pedroia , Jacoby Ellsbury , Jon Lester and Clay Buchholz have performed beautifully. Will Middlebrooks and Jarrod Saltalamacchia have performed well at times.
And new manager John Farrell was seemingly the perfect man for the job.
After a big April (18-8) and mediocre May (15-15), the Red Sox settled in with consistency. They went 17-11 in June, 15-10 in July, 16-12 in August and now have gone 12-5 in September. They've been in first place -- or tied for first -- for all but 20 days this season. They only dipped below second for three days, to third place.
In all, the bounce-back season with consistent play from a deep roster has gotten the Red Sox back to the playoffs for the first time since 2009. And they appear headed for just their second AL East crown since 1995. For now, though, it's one step at a time and the Red Sox are playoff bound.
Show Comments
Hide Comments