Red Sox cut Ryan Sweeney, paving the way for Jackie Bradley Jr.
The Red Sox cut outfielder Ryan Sweeney on Thursday, meaning prospect Jackie Bradley Jr. has a clear path to make the team.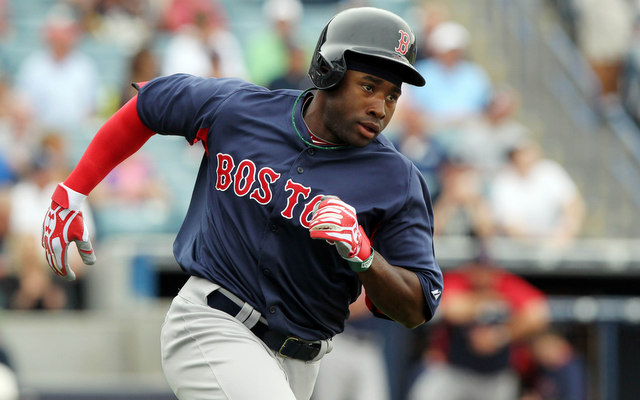 The Red Sox decided not to add outfielder Ryan Sweeney to their roster by Thursday night's deadline, paving the way for prospect Jackie Bradley Jr. to make the team out of spring training. The team has not finalized any roster decisions, however.
Bradley, 22, has been one of the very best players in baseball in spring training. He's gone 25 for 58 (.431) with two homers, nine walks and nine strikeouts in 25 Grapefruit League games after hitting .315/.430/.482 between High-A and Double-A in 2012. Boston selected him with the 40th overall pick in the 2011 draft.
Baseball America ranked Bradley the 31st-best prospect in baseball a few weeks ago, saying he "has no major adjustments to make" in their 2013 Prospect Handbook. If he makes the team, he could serve as a left-handed platoon partner for Jonny Gomes in left field even though he's a more than capable defender in center.
Show Comments
Hide Comments
Our Latest Stories
Jim Leyland's USA team won the World Baseball Classic, and he was emotional

The United States wrapped up the 2017 World Baseball Classic championship on Wednesday nig...

Let's take a quick walking tour of World Baseball Classic history
The United States conquered its first title on March 23

Stroman had a no-hitter going through six innings and ended up World Baseball Classic MVP

The World Baseball Classic championship is well within reach now