Red Sox decline 2014 club option for lefty Matt Thornton
Left-hander Matt Thornton will be a free agent for the first time in his career after the Red Sox declined his option.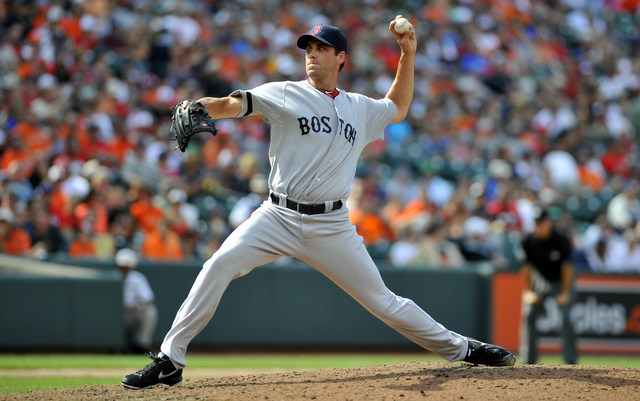 FREE AGENT TRACKER: Pitchers | Position Players
The Red Sox have declined their 2014 club option for left-hander Matt Thornton, the team announced. They'll pay him a $1 million buyout right now rather than a $6 million salary next season.
Thornton, 37, had a 3.52 ERA and 1.76 WHIP in 15 1/3 innings for Boston after being acquired from the White Sox at the trade deadline. He held left-handed batters to a .235/.267/.370 batting line overall this year but was left off the Red Sox's postseason roster in all three rounds.
Once one of the very best relievers in all of baseball, Thornton's performance has slipped in recent years, which isn't very surprising given his age. Here are some troubling trends:
2010-13 Matt Thornton
Season
Fastball Velocity (mph)
Strikeout Rate (K/9)
Swing-and-Miss Rate
2010
96.1
12.02
14.9%
2011
95.8
9.50
10.4%
2012
95.0
7.34
8.1%
2013
94.3
6.23
7.8%
Given his name value and the fact that left-handed relievers are always in high demand, Thornton should have no trouble finding a new team this winter.
Show Comments
Hide Comments