Red Sox finalizing 7-year, $72.5M deal for Rusney Castillo
Rusney Castillo, the Cuban outfielder who recently defected, is finalizing a deal with the Red Sox.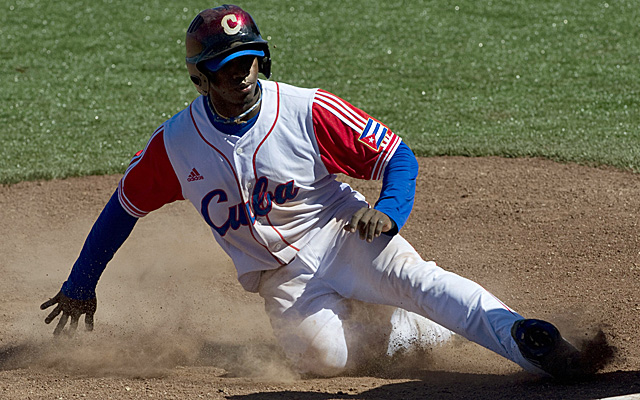 Cuban import Rusney Castillo is finalizing a seven-year, $72.5 million deal with the Red Sox, per CBSSports.com's Jon Heyman. The seven years are for the rest of this season and the six ensuing years. The deal is heavily backloaded, too. Here's the salary breakdown from Heyman:
- $100,000 salary for the remainder of 2014 plus $5.4 million signing bonus
- $10.5 million salary annually from 2015-17
- $13.5 million salary in 2018 and 2019
- Castillo can out of the contract and become a free agent after 2019
Castillo, 27, has been compared in some scouting corners to a Brett Gardner type with a bit more power. He's 5-foot-9, 205 pounds. He hasn't played organized baseball at all in 2014. In 2012-13, his final season in Cuba, Castillo hit .274/.377/.399 in 68 games, per Baseball America.
Given that Castillo hasn't been playing ball this year, he'll surely need some seasoning in the minors before getting the call to the bigs. The minor-league season only has a few weeks left, so Castillo will likely get going in the minors rather quickly.
The move seems to signal that the Red Sox don't have a lot of confidence in at least a few of their outfielders for the near future. Jackie Bradley Jr. and Mookie Betts have been playing some center field. They could be moved to corners, of course, where there's already Yoenis Cespedes, Shane Victorino, Allen Craig, Daniel Nava, Brock Holt and others. Obviously, the deal is long-term and several of those players are only on short-term deals -- not to mention that Holt and Craig could play elsewhere on the diamond -- but there is a logjam coming in the outfield. All of the aforementioned players are either signed or under team control for 2015.
The Yankees, Cubs, Giants, Mariners and a host of others were connected to Castillo in rumors and reports. Heyman says the Yankees had plenty of interest but bowed out after the bidding reached $40 million due to luxury tax concerns, and also because trade deadline pickup Martin Prado plays the same positions.
News of Castillo signing with the Red Sox was first reported by Ken Rosenthal of Fox Sports. The dollar figures were first reported by Scott Lauber of the Boston Herald.