Red Sox Game 3 starter Buchholz may be out amid health concern
Boston would go with Felix Doubront if Buchholz can't make it.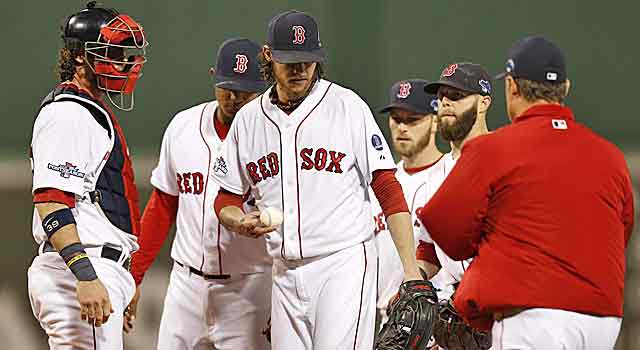 BOSTON -- While Red Sox Game 3 starter Clay Buchholz is still expected to be on the roster when World Series rosters are turned in Wednesday morning, there remains a chance he will need to be replaced before his scheduled Saturday start in St. Louis.
There are real concerns about Buchholz's ability to pitch Saturday, according to people familiar with the situation.
Injured players can be replaced on the roster. So he could be put on the original roster, then later replaced.
If Buchholz can't make the Saturday start, Felix Doubront would take his place. Doubront threw a surprise simulated game Tuesday at Fenway to prepare in case Buchholz can't make it.
Red Sox manager John Farrell suggested Tuesday that Buchholz should be OK to go, and that is the hope. "Yeah, everything is OK," Farrell aid. "We full expect [Buchholz] and Jake [Peavy] to be pitching on the weekend in St. Louis."
Buchholz missed half the season because of shoulder issues. When he pitched, he was Cy Young-worthy. He hasn't been as effective in his two postseason starts so far.
Buchholz did not attend a mandatory press gathering Tuesday at Fenway Park.
Show Comments
Hide Comments
Our Latest Stories
The franchise catcher is in his walk year, and two sides appear open to a contract extensi...

The good news is that an MRI showed no structural damage
He was re-assigned to minor league camp on Sunday

Brian Havrilla has done important work

Young Brody Chernoff, son of Mike Chernoff, was a guest in the Indians' radio booth recently,...