Red Sox legend Johnny Pesky dies at 92
Red Sox legend Johnny Pesky has died at the age of 92.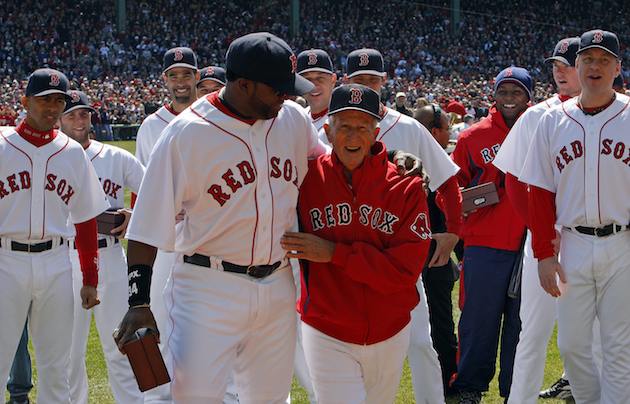 The Red Sox retired Johnny Pesky's No. 6 in 2008. (Getty Images)
Former Red Sox infielder and manager Johnny Pesky has died at the age of 92.

Pesky, who missed three seasons due to his service in World War II, played 10 years in the big leagues, eight of those with the Red Sox before finishing his career with the Tigers and Senators. He finished his career a .307/.394/.386 hitter with 1,455 hits.

Pesky managed the Red Sox in 1963 and 1964 and again served as the team's interim manager for five games in 1980.

The right field foul pole at Fenway Park is known as Pesky's Pole, named after the left-handed hitting Pesky. The legend is that the name stems from a game in 1948 when Pesky hit a game-winning home run just around the short porch in right field at Fenway. Pesky had just 17 home runs in his 4.745 at-bats in the big leagues.

Pesky's No. 6 was retired by the team in 2008.
Members of the Red Sox front office have offered up the following statements:
"We have lost a dear and beloved friend," said owner John Henry. "Johnny was happiest when wearing the Red Sox uniform. He was able to do that for 61 wonderful years. He carried his passion for the Sox, for Fenway Park, and for baseball everywhere he went, and he was beloved in return. We will miss him. We share the sadness that his family and legions of friends are all feeling."
"Johnny was one of the wonderful links to 70 years of Red Sox history," said chairman Tom Werner. "He was the grandfather of the Red Sox. He was as loving and kind a gentleman as one could imagine. His stories were delightful, and his love of Ted Williams and his teammates shone through in virtually every conversation. We know that those stories, and his spirit, will continue to live on at Fenway Park. We extend our sympathies to his son, David, his daughter-in-law Alison, and all of the members of the Pesky family."
"Johnny Pesky will forever be linked to the Boston Red Sox," said president and CEO Larry Lucchino. "He has been as much a part of Fenway Park as his retired Number 6 that rests on the right-field façade, or the foul pole below it that bears his name. But beyond these physical testaments, Johnny will be remembered most for his warmth, kindness, and loyalty. It was through his countless friendships that Johnny made his greatest impact on us, and we will miss him dearly. His was a life well-lived."
MLB commissioner Bud Selig has issued the following statement:
"The national pastime has lost one of its greatest ambassadors today. Johnny Pesky, who led a great American life, was an embodiment of loyalty and goodwill for the Boston Red Sox and all of Major League Baseball. A part of the Greatest Generation and forever one of 'The Teammates,' Johnny was a wonderful player who excelled alongside his dear friends Ted Williams, Bobby Doerr and Dom DiMaggio. Just as importantly, Johnny touched the hearts of hundreds of Red Sox players and its legion of fans around the world."
"I am deeply saddened by the loss of this special man, whose number six will be a part of Fenway Park forever. I extend my deepest condolences to Johnny's family, his many friends throughout the game and all the fans of the Boston Red Sox."

For more baseball news, rumors and analysis, follow @EyeOnBaseball on Twitter, subscribe to the RSS feed and "like" us on Facebook.
Show Comments
Hide Comments