Red Sox-Rays ALDS Game 3 starting lineups
Game 3 of the ALDS between the Red Sox and Rays is set for 6:07 p.m. ET. Here are the starting lineups as Boston looks to complete the sweep.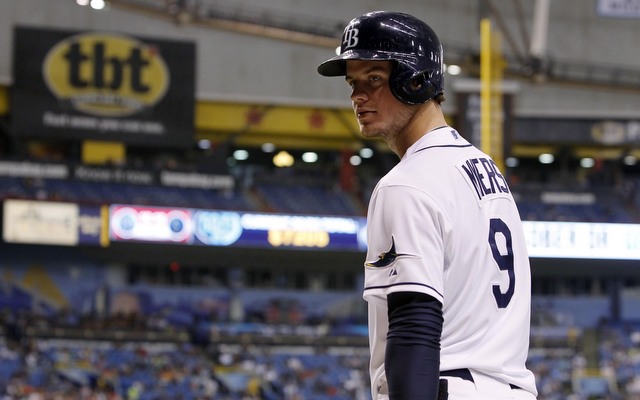 The Boston Red Sox are looking to advance to the ALCS while the Tampa Bay Rays are looking to keep their season alive. Boston has a two games-to-one lead in the ALDS and the two teams will play Game 3 at Tropicana Field in Tampa (St. Petersburg, really) at 6:07pm ET. Here are the starting nines.
First, the visiting Red Sox:
Jacoby Ellsbury

, CF

Shane Victorino

, RF

Dustin Pedroia

, 2B

David Ortiz

, DH

Mike Napoli

, 1B

Daniel Nava

, LF

Jarrod Saltalamacchia

, C

Stephen Drew

, SS

Will Middlebrooks

, 3B
Starting pitcher: Clay Buchholz , RHP
Now, the home Rays:
David DeJesus

, LF

Ben Zobrist

, 2B

Evan Longoria

, 3B

Wil Myers

, RF

James Loney

, 1B

Desmond Jennings

, CF

Matt Joyce

, DH

Yunel Escobar

, SS

Jose Molina

, C
Starting pitcher: Alex Cobb , RHP
Show Comments
Hide Comments
As many as 20 teams are expected to attend the workout

Harper wasn't satisfied with a strike-three call

Pittsburgh's playoff hopes take a hit even if Cole only misses one or two starts
Max Kepler made an ill-advised dive in right field

Replay confirmed Didi Gregorius avoided the tag with a swim move

The 2016 Little League World Series champions will be crowned Sunday