Red Sox send struggling righty Daniel Bard to Double-A
The Red Sox sent struggling right-hander Daniel Bard to Double-A Portland.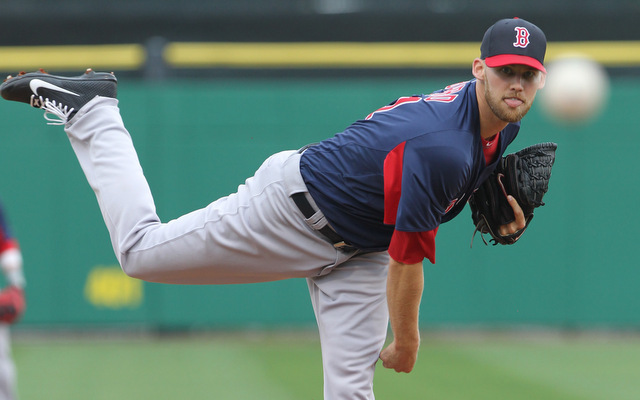 The Red Sox essentially finalized their bullpen on Thursday, optioning right-hander and former ace setup man Daniel Bard to Double-A Portland. Right-hander Clayton Mortensen is in line to get the final bullpen spot.
"It's pretty obvious that [a decision] needs to be made," said Bard, via Evan Drellich of MassLive.com. "I think I've done what I've needed to as far as just to prove I'm over last year. My mechanics are pretty close to being locked in where I want to be."
Bard, 27, allowed seven runs -- six earned -- on nine hits and four walks in eight Grapefruit League innings. He struck out 10 and hit two batters with pitches.
Boston tried to convert Bard into a starting pitcher last season but the results were disastrous. He went 5-6 with a 5.24 ERA in 10 starts early last year, walking more batters (37) than he struck out (34). The Red Sox sent him down to the minors in early June.
CBSSports.com's Danny Knobler spoke to a scout who said Bard was improved in camp compared to last year, but he still has a way to go to get back to being where we was earlier in his career. Bard posted a 2.88 ERA with a 9.7 K/9 as a setup man from 2009-11.
Following Thursday's move, the Red Sox are expected to open the season with a seven-man bullpen of Mortensen, Alfredo Aceves, Andrew Bailey, Andrew Miller, Koji Uehara, Junichi Tazawa and closer Joel Hanrahan. Lefty Craig Breslow is expected to start the year on the DL.
Show Comments
Hide Comments
Our Latest Stories
The retired slugger told some Miami students as much

The 24-year-old infielder is coming off a breakout 2016 season

A potential base-running blunder by Yankees outfielder Aaron Hicks turns into a master act...
The Detroit slugger will open the season on the disabled list

The Rays signed Wilson Ramos over the winter. Now they've added Derek Norris

Moncada discovered Twinkies at Walmart after leaving Cuba and eats up 85 a week