Red Sox-Tigers ALCS Game 5 preview: Sanchez vs. Lester
The ALCS is now a best-of-3 series after the Red Sox and Tigers split the first four games.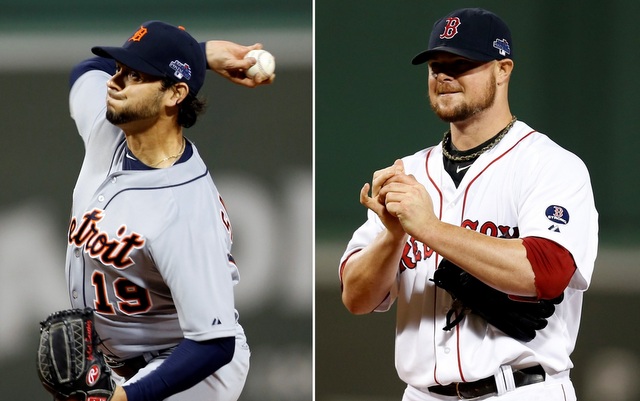 DETROIT -- The Tigers evened the ALCS at two games apiece with their 7-3 win over the Red Sox in Game 4 on Wednesday night, meaning we're down to a best-of-3 series to determine the AL pennant. Game 5 will be played at Comerica Park a little after 8 p.m. ET on Thursday.
The pitching matchup in Game 5 will be a rematch of Game 1: right-hander Anibal Sanchez (14-8, 2.57 ERA, 1.15 WHIP in 182 regular season innings) and left-hander Jon Lester (15-8, 3.75 ERA, 1.29 WHIP in 213 1/3 innings). Every pitching matchup in the ALCS from here on out will be a rematch. Let's break down the Game 5 pairing a little further.
Sanchez vs. Red Sox
A high pitch count forced Sanchez from Game 1 after only six innings, but he did not allow a run nor did he allow a single hit in the Tigers' 1-0 win. He struck out 12 while walking six. During the regular season, Sanchez pitched quite a bit better at night (2.34 ERA and 1.16 WHIP) than during the day (3.23 ERA and 1.14 WHIP). His home/road split is rather small, however.
Unlike that first game of the series, Sanchez won't have the element of surprise going for him in Game 5. That was the first time many Red Sox hitters had ever faced him, a situation that is usually advantage pitcher. Having seen him once (pretty recently, too) should help the Boston hitters, though Sanchez is very unpredictable on the mound and uses a wide array of pitches.
Shane Victorino has by far the most experience against Sanchez thanks to their Phillies-Marlins days. He has gone 10 for 46 (.217) with a double and a home run (.584 OPS) in his career against the right-hander. Stephen Drew (.626 OPS in 26 plate appearances) and David Ross (.702 OPS in 14 PA) are the only other players on the team's roster to face Sanchez more than 10 times.
Players currently on the Red Sox roster have hit .210/.304/.380 in 115 total plate appearances against Sanchez, including his Game 1 start. Just about half of those plate appearances belong to Victorino, so there's really not much we can glean from that information.
Lester vs. Tigers
Lost in the shuffle of Detroit's flirtation with a no-hitter in Game 1 was a very strong outing by Lester, who held the high-powered Tigers to one run in 6 1/3 innings. He pitched considerably worse on the road (4.21 ERA and 1.39 FIP) and at night (4.23 ERA and 1.35 WHIP) than at home (3.09 ERA and 1.16 WHIP) and during the day (2.84 ERA and 1.19 WHIP) in 2013.
Lester faced the Tigers at Comerica Park back in June, allowing five runs in 5 2/3 innings. His career numbers against the Tigers are not good (4.63 ERA and 1.55 WHIP in 44 2/3 innings). Ditto his numbers at Comerica Park (4.58 ERA and 1.48 WHIP in 19 2/3 innings). Three starts in a given ballpark spread across an eight-year career is not a huge indicator of anything, however.
On Wednesday afternoon, Lester spoke about the challenges of preparing to face the Tigers as the only left-handed starter in Boston's rotation:
I think you have to take [historical performance and the ALCS] collectively. Obviously we've had some right-handed pitchers out there, so I've got to look at that a little bit differently than I would if we had some lefties out there, if [Felix Doubront] was pitching. You look at some of the things they were able to do, [John Lackey] yesterday, watch [Jake Peavy in Game 4] and maybe see soft in certain counts works better than hard, whatever, just try to pick up something.

But at the same time, look at some pitching that's worked. These guys are smart hitters, they know how I've gotten them out in the past and they know how they've gotten hits in the past. You have to take somewhere in the middle and adjust off that.
Outside of Prince Fielder (.663 OPS in 19 PA), the Tigers' top hitters have all had a ton of success against Lester in their careers. That includes Miguel Cabrera (1.392 OPS in 27 PA), Victor Martinez (1.068 OPS in 19 PA), Jhonny Peralta (1.062 OPS in 35 PA) and Torii Hunter (1.004 OPS in 35 PA).
Overall, position players on Detroit's current roster have hit .361/.425/.539 in exactly 200 career plate appearances against Lester. It's worth noting that outside of Fielder and catcher Alex Avila, the Tigers lineup will be all right-handed (or switch-hitting) batters. Lester held lefties to a .237/.278/.392 batting line with a 4.64 K/BB this year while righties were a bit more effective (.257/.324/.388 and a 2.25 K/BB). This is a good matchup for the Tigers, in theory.
Show Comments
Hide Comments