Red Sox top Cardinals in World Series Game 5: Grades
The Red Sox are shipping up to Boston with a 3-2 lead over the Cardinals in the 2013 World Series. Now let's pass judgment on Game 5.
by

Eye on Baseball staff

• 2 min read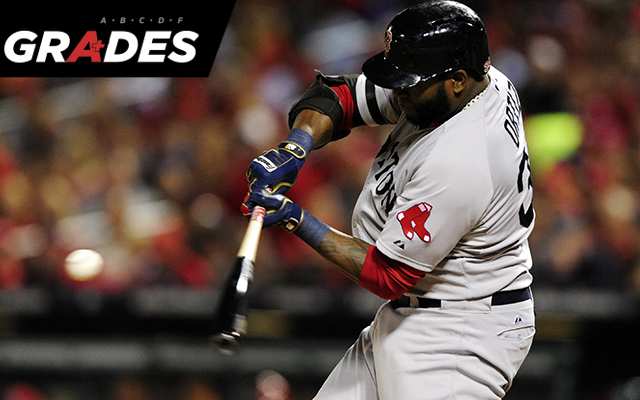 MORE: Game 5 quick hits | Game 5 boxscore
The Red Sox topped the Cardinals in Game 5 of the World Series by a score of 3-1, and now they'll head back to Fenway with a 3-2 lead in the series. Before the scene shifts, though, let's hand out some report cards for Monday night's action ... 
Team
Grade
Analysis
A
For the second time in the series, Jon Lester was absolutely masterful in Game 5. He followed his 7 1/3 innings of shutout ball in Game 1 with 7 2/3 innings of one-run ball in Game 5, with the only blemish a monster solo homer by Matt Holliday. Lester retired 12 straight following the homer and ended the night with seven strikeouts and only four hits allowed. He managed that despite throwing a first pitch strike to only 11 of 26 batters faced. The lefty was brilliant. Again.
A
Hard to believe that Lester has allowed one run in 15 innings across two World Series starts and is, at best, a distant second in the series MVP race.

David Ortiz

went 3 for 4 with a run-scoring double in Game 5 and is now hitting .733 (!) in the series with six runs driven in. His one out in Game 5 was a rocket smashed right to Jon Jay in dead center. Big Papi is locked in, so much so that he'll probably be named the World Series MVP even if the Cardinals manage to comeback to win the series.
B-
I don't think the pitching line -- 7 IP, 8 H, 3 R, 3 ER, 1 BB, 10 K -- does Adam Wainwright justice in Game 5. He pitched very well before the seventh inning, holding the Red Sox to one run while striking out nine in the first six innings. His only real obvious mistake was the hanging curveball that

David Ross

whacked for a double to break the 1-1 tie in the seventh. There's no shame in giving up a run-scoring double to Ortiz and Jacoby Ellsbury's run-scoring single was a jam shot bloop. That's a tough loss to take. Wainwright was very good, which wasn't good enough.
D
Once again, Mike Matheny showed too slow of a hook. In the seventh, Adam Wainwright appeared to hit a wall in terms of command after he gave up a single to Xander Bogaerts, walked the deeply struggling Stephen Drew and then gave up a two-RBI, go-ahead double to David Ross. Wainwright retired Lester, but Matheny stuck with him against the platoon-advantaged Jacoby Ellsbury even though lefty Kevin Siegrist was warming up. Sure enough, Ellsbury singled home an insurance run. Matheny badly needs to realize that aggressive use of his shutdown bullpen is in order in the postseason. Too often this series, he's stuck with his starter too long. This isn't the regular season. This is high-stakes baseball, and it's time for Matheny to start managing accordingly.
F
This bottom-most grade goes out to the Cardinals' offense (with the exception of Matt Holliday, whose solo shot accounted for their only run). There's really no decoupling great pitching on one team from bad hitting on the other, so we're at once holding up Lester for high marks while also failing the St. Louis hitters. In Game 5, the Cardinals' offense went 4-for-29 overall and 0-for-4 with RISP. They also struck out nine times and drew not a single walk. They've given the pitching staff very little room to breathe in this series.
Show Comments
Hide Comments
Our Latest Stories
The franchise catcher is in his walk year, and two sides appear open to a contract extensi...

The good news is that an MRI showed no structural damage
He was re-assigned to minor league camp on Sunday

Brian Havrilla has done important work

Young Brody Chernoff, son of Mike Chernoff, was a guest in the Indians' radio booth recently,...