Report: A-Rod could be called to depose in Biogenesis civil claim
Alex Rodriguez could be called to depose as part of an ongoing civil suit related to the Biogenesis case, according to the New York Daily News.
Although all the suspensions have been served, the Biogenesis case is still going on behind the scenes. Former University of Miami baseball coach Lazaro Collazo filed a civil claim last year alleging Yankees DH Alex Rodriguez purchased his medical records and illegally disseminated them to third parties, reports Christian Red of the New York Daily News.
As a result of the civil claim, A-Rod could be deposed at some point this year, and may have to miss regular season games. Here's more from Red:
The complaint charges Rodriguez, his longtime business associate Jose (Pepe) Gomez and private investigations firm, Guideposts, with one count of invasion of privacy. The complaint alleges that the defendants violated state law after they purchased Collazo's medical records and disseminated them to third parties, including federal prosecutors, during the Biogenesis investigation. Florida law prohibits such dissemination of records without the patient's consent.

In a victory for Collazo's legal team, Circuit Court Judge Barbara Areces of the 11th Judicial Circuit of Florida last week signed an order denying the defendants' motion to dismiss the suit, paving the way for a possible A-Rod sit-down with Collazo's attorneys. If deposed, and because Rodriguez received partial immunity from the government in the Biogenesis federal case, he would not be able to take the Fifth.
Collazo pleaded guilty to two counts of misdemeanor possession of a controlled substance without a prescription last year. He is seeking damages of more than $15,000 from Rodriguez, plus attorney's fees and other legal costs.
Rodriguez, now 40, was suspended for the entire 2014 season due to his ties to Biogenesis. A total of 13 players were suspended in 2013, though only A-Rod appealed. He ban was reduced from 211 games to 162 games.
Former Biogenesis chief Anthony Bosch was sentenced to four years in prison after pleading guilty to conspiracy to distribute testosterone. His sentence was recently reduced 16 months because he cooperated with prosecutors.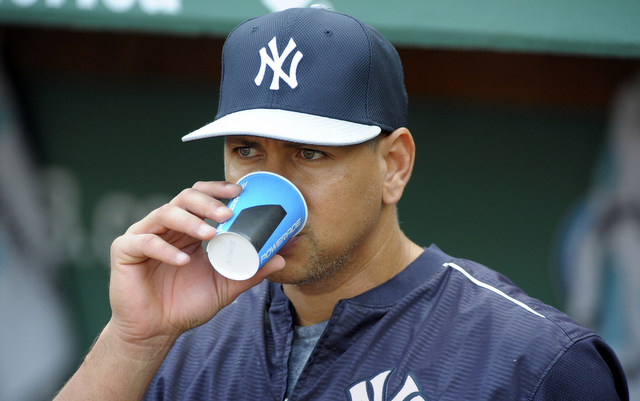 Show Comments
Hide Comments
Our Latest Stories
Say what you will about the D-Backs this year, but this was a nice touch

Farrell had enough and he let the fan have it

For the first time in a long time, the Yankees started looking towards the future
Their season didn't go as planned, but the Astros are well poised for contention

Alonso High School now has its collection of Fernandez jerseys intact

Ground-rule double or not? It's complicated, and so's challenging a play at the end of a g...