Report: A-Rod tested positive for stimulant in 2006
According to the New York Times, Alex Rodriguez failed a drug test in 2006 due to a stimulant. Under the JDA, players aren't suspended for this until their second violation.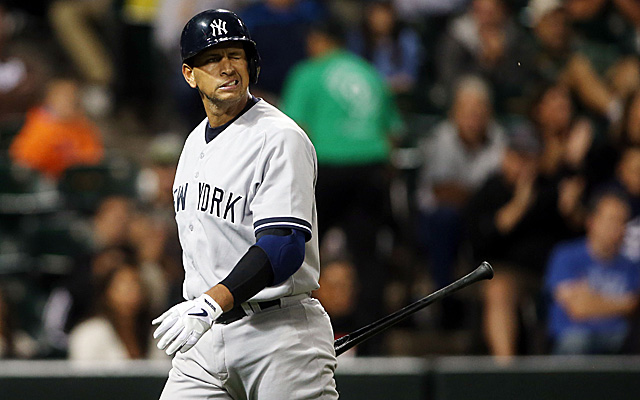 While Alex Rodriguez's arbitration hearing process for his appeal of a 211 game suspension drags on (and on ... and on ... and on), the New York Times has a rather lengthy update on the hearing -- which is on a break until Nov. 18. The entire article is a pretty comprehensive summary of everything that has transpired thus far, so, if interested, definitely click through and check it out.
Buried within is this little nugget, however:
According to people involved with baseball's antidoping program, he failed a drug test for stimulants in 2006, a previously undisclosed charge.
This is entirely possible to have happened and not been publicly disclosed by MLB, because under the joint drug agreement, a first positive stimulant test doesn't carry a suspension. A second violation is a 25-game suspension and a third violation is an 80-game ban. One might recall that Miguel Tejada failed his second and third tests of the variety this past season, so he was nailed for 105 games.
Rodriguez, 38, hit .244/.348/.423 with seven doubles, seven homers and 19 RBI in 44 games this past season for the Yankees. He was the only one connected to the South Miami Biogenesis clinic to appeal his suspension and play through it. The likes of Ryan Braun, Nelson Cruz, Jhonny Peralta and Everth Cabrera served their time and will be able to play from the get-go next season. Rodriguez, however, received a much more significant suspension.
Rodriguez still has four years and $86 million left on his contract and suspensions are unpaid, so lots of dollars hang in the balance here.
Show Comments
Hide Comments