Report: Bobby Abreu will attempt comeback; Indians 'very interested'
Long-time big league outfielder Bobby Abreu has decided to attempt a comeback, reports Fox Sports. The Indians have interest and the two sides are discussing a deal.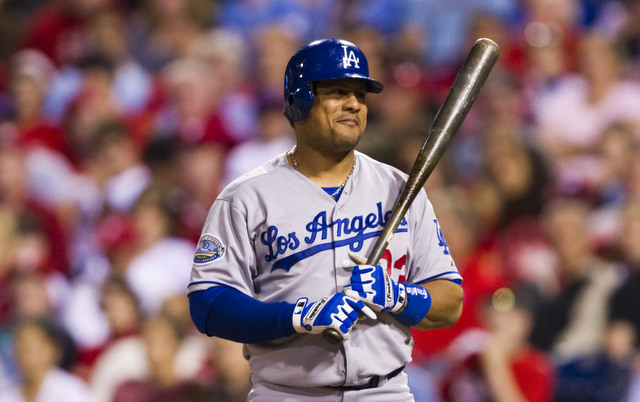 MORE: FA tracker: position players | FA tracker: pitchers
Free-agent outfielder Bobby Abreu has decided to attempt a comeback, reports Jon Morosi of Fox Sports. The Indians are "very interested" in signing him according to Tony Lastoria of Fox Sports, but Morosi clarifies that no offer has been made yet.
Abreu, 39, did not play at all last season. He has been playing winter ball in his native Venezuela these last few weeks, hitting .322/.416/.461 with 10 doubles, three home runs and nearly as many walks (30) and strikeouts (35) in 50 games played.
During his last season in the big leagues, Abreu hit .242/.350/.342 (94 OPS+) with three home runs and six stolen bases in 257 plate appearances for the Angels and Dodgers in 2012. His power had all but completely evaporated by that point, but his trademark batting eye and plate discipline was still intact.
It's unclear what, exactly, Abreu can offer an MLB team at this point. His power has all but disappeared (like I said) plus he was never a good outfield defender and southpaws gave him trouble the last few years. Abreu might not be anything more than a moderate on-base, low-power, platoon DH at this point of his career.
If he's willing to take a minor-league contract, great. There's never any harm in bringing in a player on a minor-league deal. But the Abreu who hit .305/.416/.513 (129 OPS+) while averaging 20+ homers and 20+ steals a year from 1998-2006 is long gone. The guy who put up the 94 OPS+ in 2012 might be gone as well.
And since it's the season: If Abreu does appear in an MLB game in 2014, it will push back his Hall of Fame clock. He's not a first ballot guy, but his case for induction is sneaky good.
Show Comments
Hide Comments