Report: Cardinals agree to sign second baseman Mark Ellis
Free agent Mark Ellis has signed a deal with the Cardinals, pending a physical, according to a report.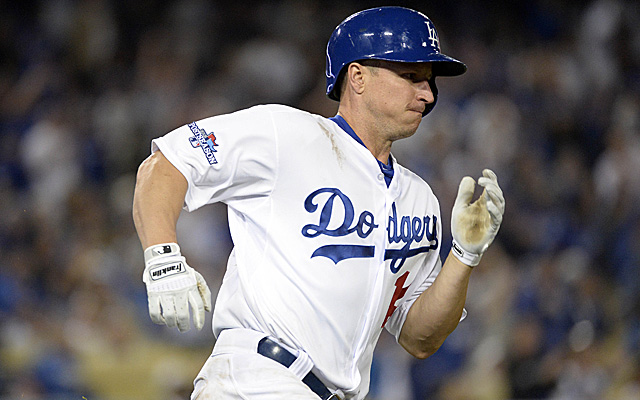 MORE: FA tracker: position players | FA tracker: pitchers
The Cardinals and free agent second baseman Mark Ellis have agreed to a one-year deal, pending a physical, according to Derrick Goold of the St. Louis Post-Dispatch.
With the Cardinals having traded David Freese and seen Carlos Beltran walk via free agency this offseason, they've played a bit of a game of musical chairs in the infield. All-Star first baseman Allen Craig will shift to right field to take over for Beltran, putting Matt Adams in at first. All-Star second baseman Matt Carpenter will move to third base -- taking over for Freese -- leaving second base for Kolten Wong. Newly signed Jhonny Peralta will be the shortstop.
Ellis, 36, provides the Cardinals with a veteran insurance policy for the youngster, Wong, at second base. Ellis hit .270/.323/.351 with 13 doubles, six homers and 48 RBI for the Dodgers last season. The 11-year veteran carries a career line of .265/.330/.390 (94 OPS+).
The 23-year-old Wong hit .153/.194/.169 in 62 plate appearances last season, but he'll still be a rookie in 2014 and he has good upside. He hit .303/.369/.466 with 21 doubles and 10 homers in 107 Triple-A games last season. There is, of course, the possibility he flops, however, which is where the Ellis signing comes in.
Also worth noting: Wong bats left-handed while Ellis is a righty, so a platoon would also be possible.
Show Comments
Hide Comments