Report: Cubs claim Cole Hamels off revocable trade waivers
The Cubs have claimed left-hander Cole Hamels off revocable trade waivers from the Phillies, according to a 97.5 the Fanatic report.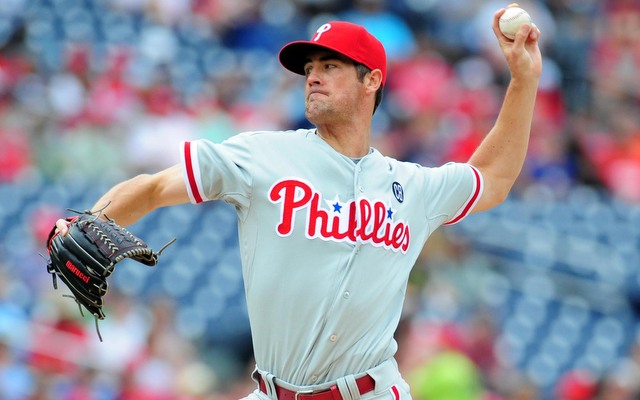 More MLB: Power Rankings | Expert Picks | Latest news & notes | Fantasy news
The Cubs have claimed left-hander Cole Hamels off revocable trade waivers from the Phillies, reports Mike Missanelli of 97.5 the Fanatic. Jon Heyman of CBSSports.com has confirmed they are not on his no-trade list.
One of three things will happen now:
The Phillies pull Hamels back off trade waivers and keep him.
The Phillies award Hamels to the Cubs and simply give him away from nothing. That won't happen.
The Phillies and Cubs work out a trade within 48 hours, before he must be pulled back or awarded.
Here's a primer on how August trade waivers work, if you're unfamiliar. If the Phillies pull Hamels back, they will not be able to trade him until the offseason unless they pass him through irrevocable trade waivers, meaning he can not be pulled back if claimed.
Hamels, 30, is 6-6 with a 2.42 ERA and a 1.11 WHIP in 20 starts and 137 1/3 innings this year. He missed the start of the season with a minor shoulder issue. Hamels had a 3.13 ERA while averaging 215 innings per year from 2010-13.
The Phillies owe Hamels $90 million from 2015-18 before a $20 million vesting option for 2019 comes into play. Four years and $90 million is a bargain compared to what a pitcher of Hamels' caliber would get as a free agent in the offseason.
The Cubs have a plethora of prospects and could make a very competitive offer for Hamels, but in all likelihood the Phillies will pull him back and wait until the offseason to trade him. That allows them to get more teams involved and create a bidding war.
More than anything, the waiver claim reinforces the idea that the Cubs are willing to spend some serious money on high-end pitching. They pursued Masahiro Tanaka over the winter, remember.