Report: Dodgers, Don Mattingly making progress on extension
According to Fox Sports, the Dodgers and manager Don Mattingly are working on a new contract extension, which could be finalized soon.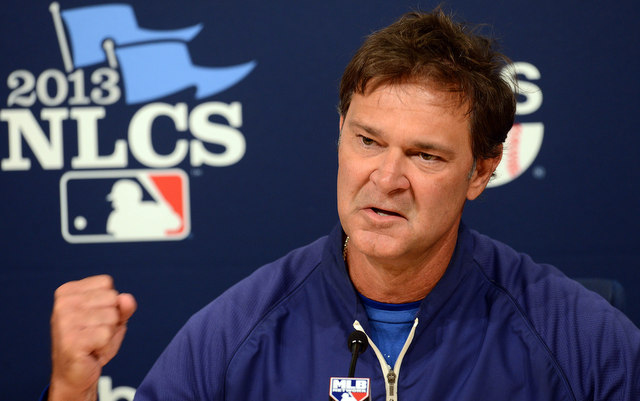 MORE: FA tracker: position players | FA tracker: pitchers
The Dodgers and mananger Don Mattingly are making progress on a contract extension, reports Ken Rosenthal of Fox Sports. The deal is expected to be done soon, though it's unclear what qualifies as "soon." Few hours? Few days? Few weeks? Who knows.
Mattingly, 52, is under contract for 2014 after a vesting option in his deal was triggered by the team's NLDS win over the Braves. He not-so-subtly said he wanted an extension during his end-of-season press conference a few weeks ago. The Dodgers are obviously open to keeping him around long-term.
Mattingly has been the club's skipper since 2011, when he replaced Joe Torre. The team has posted winning seasons in all three years under his watch, including a 92-70 mark in 2013. Overall, the Dodgers are 260-225 (.536) with one NL West title under Mattingly.
Expectations are rather high in Los Angeles right now. The new ownership group has spent a ton of money to improve the team and their core players (Clayton Kershaw, Yasiel Puig, Hanley Ramirez, Matt Kemp, Adrian Gonzalez, Zack Greinke, Hyun-Jin Ryu, etc.) are all in the primes of their careers. The time to win is now and that's the expectation Mattingly will have to meet when he gets his new deal.
Show Comments
Hide Comments