Report: Machado 6-8 weeks ahead of schedule following knee surgery
Orioles youngster Manny Machado is recovering well from offseason knee surgery and may be as much as two months ahead of schedule, according to a Baltimore Sun report.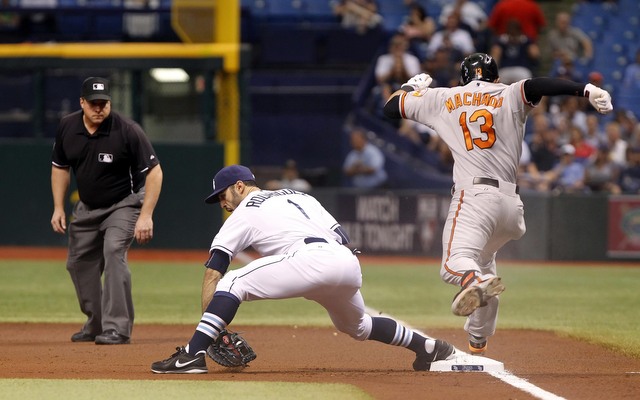 MORE: FA tracker: position players | FA tracker: pitchers
An otherwise outstanding sophomore season ended on a sour note for Manny Machado, as he injured his left knee running through first base in a late September game. He was originally expected to miss only 6-8 weeks, but he wound up needing surgery on the medial patellofemoral ligament of his left knee in October. The revised 4-6 month recovery time made him questionable for the start of 2014.
Machado, who won't turn 22 until July, had a scheduled check-up on the knee on Thursday. It is healing well, so well that he may be as much as two months ahead of schedule:
No official word from Os on Manny Machado's left knee checkup 2day, but source tells me it went well & he's 6-8 weeks ahead of recovery norm

— Dan Connolly (@danconnollysun) January 16, 2014
It's good to be young, isn't it?
If Machado is indeed that far ahead of schedule, he shouldn't have much trouble being ready in time for opening day. That's great news for an Orioles team that, frankly, hasn't improved all that much this offseason.
Machado hit .283/.314/.432 with 14 homers, 71 RBI, 88 runs and an AL-best 51 doubles this past season for Baltimore.
Show Comments
Hide Comments