Report: Marlins send top prospect Yelich to minor-league camp
The Marlins assigned top outfield prospect Christian Yelich to minor-league camp on Friday.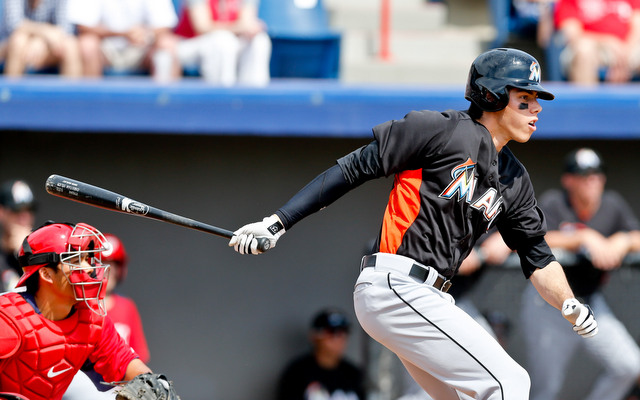 The Marlins assigned top position-player prospect Christian Yelich to minor-league camp on Friday, reports Juan C. Rodriguez of the Sun Sentinel. He is expected to open the year at Double-A.
"I came in here with realistic expectations," said Yelich to Rodriguez. "I played in A-ball. I went to the [Arizona Fall League], but it still doesn't count I guess as being Double-A even though it is that level of competition. I felt like I was able to leave a good impression, which is really all you can ask for. It's a process and they stick to it for a reason. They're looking out for my good, too, so you can't be frustrated with it."
Yelich, 21, was the 23rd overall pick in the 2010 draft. He hit .330/.404/.519 with 12 homers and 20 steals in 106 games for High-A Jupiter last year, enough for Baseball America to name him the 15th-best prospect in baseball a few weeks ago. In its 2013 prospect handbook, the publication said the left-handed hitting outfielder "has the pure swing of a future batting champion."
Yelich was very impressive in camp, going 16 for 44 (.364) with three doubles and five homers in 22 games. There was some speculation he could break camp with the team given their shallow big-league roster, but they decided against the three-level jump from Single-A to MLB.
Show Comments
Hide Comments