Report: MLB clears Yu Darvish of involvement in gambling ring
MLB has cleared Yu Darvish of any involvement in his brother's gambling ring, according to a Fort Worth Star-Telegram report.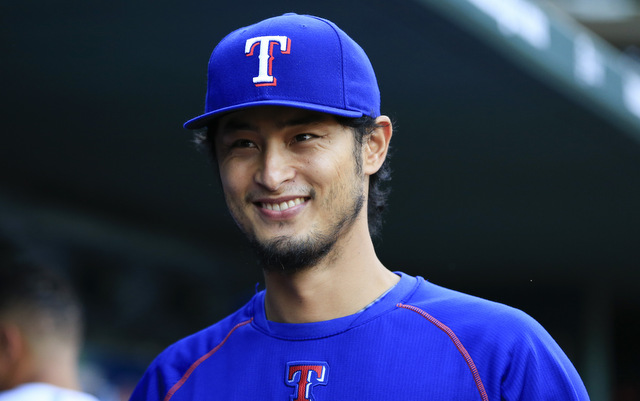 Earlier this week we learned Rangers right-hander Yu Darvish was being investigated by MLB for potential involvement in his brother's gambling ring. Police allege Sho Darvish ran a betting ring that accepted "1,850 wagers valued at ¥10,000 each on pro games in both North America and Japan."
According to Stefan Stevenson of the Fort Worth Star-Telegram, MLB has cleared Darvish of any potential involvement in his brother's gambling ring. The league has not yet confirmed the news. Here's more from Wilson:
Major League Baseball has determined Texas Rangers pitcher Yu Darvish had no involvement with his brother's gambling operation in Japan, a league source said Saturday.

Sho Darvish was arrested in October by Japanese police on charges that he operated an illegal gambling ring that took bets on major league games.
Darvish did not pitch at all last season as he rehabbed from Tommy John surgery. But, even while injured, there was concern he could have supplied his brother with inside information for his gambling operation, even unwittingly.
"I am not and have never been involved with gambling activities," said Darvish in a statement after news of MLB's investigation broke. "I am certain that they will find that I had no involvement in this matter whatsoever."
MLB takes any possible gambling issues very seriously and they would have investigated any player had his brother been alleged to run to a gambling ring. They were able to clear Darvish of any wrongdoing rather quickly in this case.
Darvish, 29, is expected to return from Tommy John surgery early in the 2014 season.
Show Comments
Hide Comments
Our Latest Stories
Israel beat Great Britain 9-1 in Sunday's qualifying round final

The Dodgers walked off with the NL West title during Scully's final home broadcast

How could the huge-market, defending NL West champs be an unlikely division champ?
The Dodgers added depth over dropping serious coin this offseason, and it paid off on Sund...

Scully is calling his final home game on Sunday

Eduardo Rodriguez and Heath Hembree combined to fan 11 straight Rays on Sunday