Report: MLB reviewing Matt Adams 'incident'
For barely pushing a fan earlier this week, Cardinals first baseman Matt Adams is under review with the office of the commissioner.
Earlier this week, Cardinals first baseman Matt Adams was attempting to catch a foul ball going into the stands when this happened: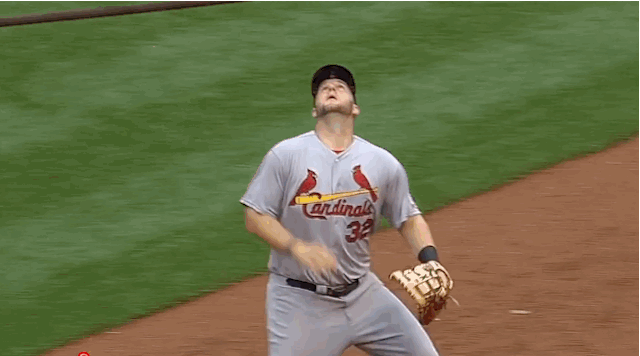 So that's a very minor push -- and some are even offended that we call it a push. It's something, but it's a little something. The problem is there should be a line that players can't cross, and that is putting your hands on a fan in any sort of negative manner. Thus, it's not surprising that Major League Baseball is reviewing the situation.
Derrick Goold of the St. Louis Post-Dispatch reports that the commissioner's office is taking a look at the incident. He further reports that MLB only officially releases statements about discipline if a suspension is handed out. Basically, my guess is this is the last we hear of it. I can't see a suspension coming down for something this minor and a fine wouldn't be publicly disclosed.
Adams doesn't seem too worried or apologetic about the situation.
"If I hear from them, I hear from them," Adams said (stltoday.com). "That's not the kind of person I am. I didn't do it on purpose. It wasn't intended for that. I was just trying to get back to my feet and get back out on the field."
So there you have it. MLB is reviewing Adams' actions and he'll probably be given a warning or be fined a small amount of money. We can now safely put this "incident" in our rearview mirror.
Show Comments
Hide Comments