Report: Phillies have considered releasing Howard after the season
The Phillies have considered releasing Ryan Howard after the season, according to a CSN Philly report.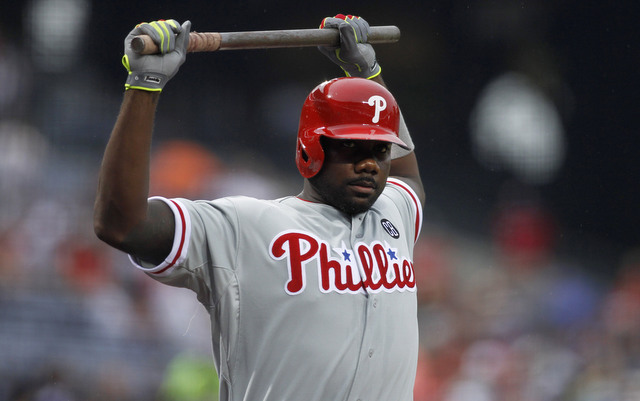 More MLB: Power Rankings | Expert Picks | Latest news & notes | Fantasy news
The Phillies have one of the worst records in baseball at 43-57, and they are expected to at least seriously consider moving some pieces before next week's trade deadline. Guys like Cliff Lee, Cole Hamels and Marlon Byrd could net anything from a decent to a great return.
One guy who would fetch the Phillies nothing in a trade is first baseman Ryan Howard. The 34-year-old fading slugger comes in Wednesday hitting a weak .224/.305/.377 (90 OPS+) with 15 home runs in 97 games. His performance has declined and he's become more injury prone over the years, which is a very bad combination.
According to Jim Salisbury of CSN Philly, the Phillies have considered releasing Howard and starting fresh at first base after the season. He is still under contract at huge money through 2016, and ownership groups usually don't love the idea of eating money to send a player packing. Here's more from Salisbury:
Multiple sources say the team has also discussed moving on without Howard. The team has floated his name in trade talks, but Howard is owed the remainder of $25 million for this season and $60 million over the next two seasons. No team is interested in taking on that amount of money -- or even part of it because the Phils know they'd have to eat a large portion of Howard's salary -- for a declining player.

The logical next step is to release Howard. Sources say team officials have contemplated the possibility of paying off Howard and moving on without him after the season.
Talking about releasing Howard and actually releasing Howard are two very different things. Teams kick around wild ideas all the time and releasing a player owed nearly $75 million definitely qualifies as a wild idea. Following through on something like this is another matter entirely.
If Philadelphia did indeed cut ties with Howard, another team could sign him for the pro-rated portion of the league minimum. I'm sure another team would take a chance on him as a platoon bat or DH given the low risk.
Show Comments
Hide Comments