Report: Rakuten Golden Eagles will not post Masahiro Tanaka?
According to several reports, the Rakuten Golden Eagles will not make ace right-hander Masahiro Tanaka available to MLB teams this winter.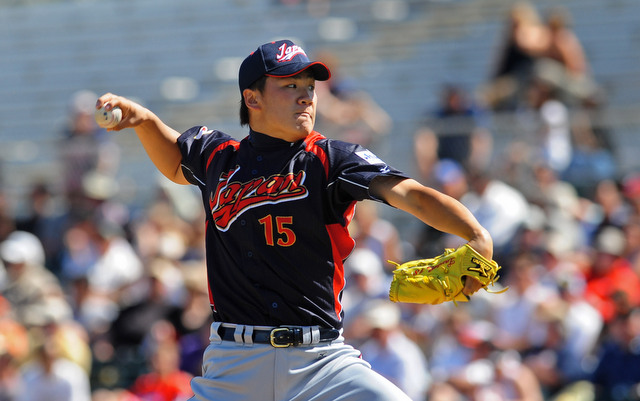 MORE: FA tracker: position players | FA tracker: pitchers
According to reports out of Japan relayed by Ken Belson of the New York Times, the Rakuten Golden Eagles will not post ace right-hander Masahiro Tanaka this offseason. They will instead keep him for 2014 and make him the highest paid player in Nippon Professional Baseball history, with a salary of $8 million or so.
Now, just to be clear, Rakuten has not officially announced anything and it's possible this is just a big game of telephone. That can happen when you have reports citing other reports (in another language, no less). One GM went so far as to call the report "bizarre," according to Ken Rosenthal of Fox Sports. "Not sure I buy it," the GM added.
MLB and NPB negotiated a new posting system this winter that limits the money sent to the player's former team to $20 million, less than half and maybe only one-quarter of what Rakuten was expecting for Tanaka under the old system. By keeping him for another year, the team could make another revenue-generating title run (the Golden Eagles won the Japan Series a few weeks ago) before posting him next winter. They risk Tanaka getting hurt, in which case he may be un-post-able next year.
If Rakuten does indeed keep Tanaka for 2014, the market for free agent hurlers Matt Garza, Ubaldo Jimenez and Ervin Santana should heat up. The Yankees, Rangers, Diamondbacks, Mariners, Dodgers and Angels were among the teams connected to Tanaka, some more seriously than others.
Show Comments
Hide Comments