Report: Rakuten making bid to keep Masahiro Tanaka
The Rakuten Golden Eagles have reportedly made a contract offer to coveted RHP Masahiro Tanaka, who's hoping to pitch in MLB next season.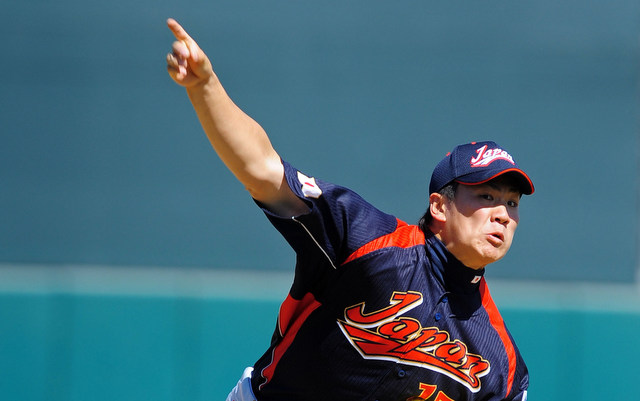 MORE: FA tracker: position players | FA tracker: pitchers
As far as coveted Japanese right-hander Masahiro Tanaka is concerned, the plot continues to thicken. Tanaka has stated his wish to be posted and pitch in the U.S. major leagues starting next season. However, his current club, the Rakuten Golden Eagles, is understandably put off by the new posting agreement and is hoping to persuade Tanaka to stick around for at least another year.
To that end, Rakuten has reportedly made an offer to Tanaka for 2014. Here's the relevant tweet from NPB Tracker's Patrick Newman, an authority on the topic of Japanese baseball:
Looks like Rakuten is not giving up on Tanaka. Hochi says they are going to offer him an $8m salary. http://t.co/PJRk1Cqa0U

— Patrick Newman (@npbtracker) December 19, 2013
A crude translation of the story suggests that Rakuten is prepared to offer 800 million Japanese Yen, which would come to $7,728,000. Given the lowered posting fee and what's sure to be healthy demand for Tanaka's services throughout MLB, he stands to make at least twice that on an annual basis if he makes the leap. However, perhaps familiarity and a sense of loyalty is enough to make up the difference. 
If nothing else, Rakuten isn't going to let their ace get away without a fight. Given that Tanaka, who's still just 25, is coming off a seaon in which he went 24-0 with a 1.27 ERA and pitched his team to the championship, Rakuten's attachment is easy to understand.   
Show Comments
Hide Comments
Our Latest Stories
The fourth installment of the WBC was an overwhelming success

First spring at-bat? No problem. Arrieta goes downtown to the tune of 465

The Yankees seem to be shooting down offers for veteran shortstops across the league
Fans in Puerto Rico are very proud of their players for their WBC effort

The bat-flipper extraordinaire wants MLB players to know latin players mean no disrespect

USA claimed their first WBC title on Wednesday. How would this roster perform during an MLB...