Report: Rangers, Tommy Hanson progressing towards deal
The Rangers and free agent right-hander Tommy Hanson and progressing towards a deal, according to a Fox Sports report.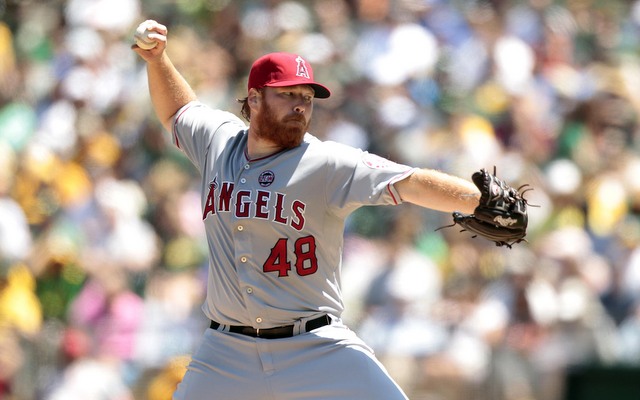 MORE: FA tracker: position players | FA tracker: pitchers
The Rangers and free agent right-hander Tommy Hanson are progressing towards a contract agreement, reports Jon Morosi of Fox Sports. Several other teams have made offers as well.
Hanson, 27, was non-tendered by the Angels earlier this offseason. They elected to release him rather than pay a projected $3.9 million salary in 2014. Terms of the potential deal with Texas are unknown, but it could be a minor league deal.
In 73 innings across 13 starts and two relief appearances with the Halos, Hanson had a 5.42 ERA (70 ERA+) with a 1.55 WHIP in 2013. A forearm strain sent him to the DL for a month, and he also missed time following the death of his stepbrother.
Hanson went 32-22 with a 3.28 ERA (120 ERA+) with the Braves from 2009-11, but he has gone only 17-13 with a 4.76 ERA (83 ERA+) in the two years since. Shoulder problems have cost him some precious fastball velocity.
The Rangers will be without left-hander Derek Holland until midseason. He needed microfracture surgery on his left knee after suffering a dog-related fall earlier this winter.
Show Comments
Hide Comments