Report: Rays owner has discussed moving team to Montreal
Rays owner Stuart Sternberg has discussed moving the team to Montreal, according to a New York Daily News report.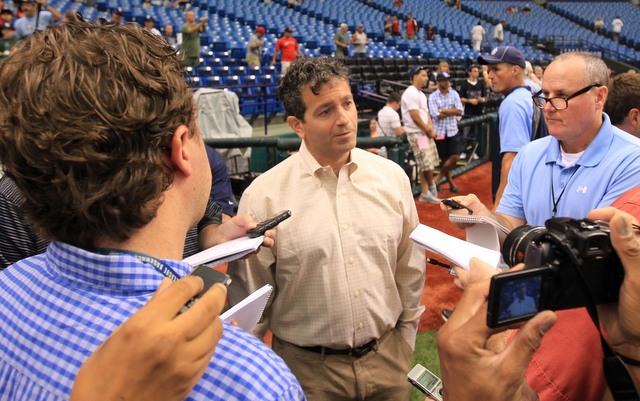 The Tampa Bay Rays suffered two huge losses this month, as long-time general manager Andrew Friedman and manager Joe Maddon left the team.
Friedman is now the Dodgers president of baseball operations and Maddon is looking for a new managerial job after opting out of his contract. Both were key figures in turning the franchise around after all their years in the cellar as the Devil Rays.
Even though the Rays contended in the AL East from 2008-13 before slipping to fourth place in 2014, their annual attendance never rose above 1.87 million fans, according to Baseball-Reference. They also never finished higher than ninth in the AL in attendance. Tropicana Field is not the best baseball venue and the ballpark itself is in St. Petersburg, a 25-minute drive from downtown Tampa even during non-rush hours.
The team has understandably been looking to build a new modern ballpark in a better location, but so far their efforts have been fruitless. Their lease at the Trop runs through 2027. Now, according to Bill Madden of the New York Daily News, ownership is discussing moving the team to Montreal:
Rays owner Stuart Sternberg has been frustrated in his efforts to get out of Tropicana Field in St. Pete and move to a new stadium in Tampa, but there is growing belief that the economically depressed Tampa Bay area won't support the Rays no matter where they play. And according to sources, Sternberg has had discussions with wealthy Wall Street associates about moving the Rays to Montreal, which has been without a major-league franchise since the Expos were transferred to Washington in 2005. As one major-league official put it to me Friday: "Say what you will about Montreal, but the Expos drew well over two million fans four times there in their heyday, while the Rays did that only once, their first year.
The Expos averaged less than one million fans per season in six of their final seven years before moving to Washington and becoming the Nationals. The Blue Jays and Mets played a pair of exhibition games in Olympic Stadium this spring that averaged nearly 50,000 fans per game, though sustaining those kinds of attendance numbers across a full season is a different matter entirely.
More than anything, this appears to be Sternberg trying to create some leverage so he can get a new ballpark in the Tampa area. He would definitely not be the first owner to threaten relocation in an effort to get a new stadium.
(h/t CBS Tampa Bay)
Show Comments
Hide Comments