Report: Rockies looking to rebuild bullpen with Wilson, Smith, Veras
Three free agent right-handers are on the Rockies' radar this winter as they look to rebuild their bullpen.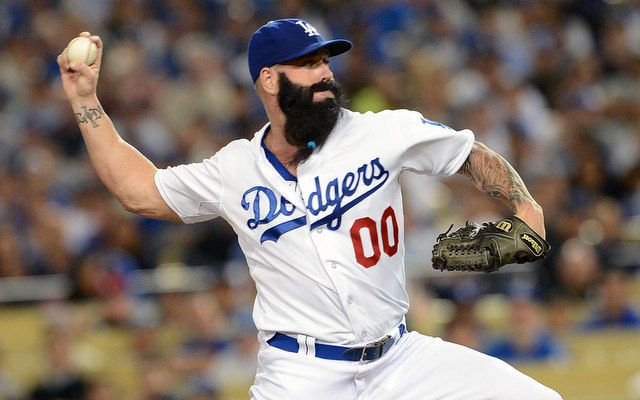 MORE: FA tracker: Position players | FA tracker: Pitchers
The Rockies bullpen had the third highest ERA (4.23) and fourth highest WHIP (1.40) in baseball this past season, so it's no surprise they're looking to add relievers this winter. Troy Renck of the Denver Post reports Colorado is pursuing Jose Veras, Joe Smith and Brian Wilson. All three are free agents.
Veras, 33, had a 3.02 ERA (137 ERA+) and 1.07 WHIP in 62 2/3 innings for the Astros and Tigers in 2013. The 29-year-old Smith had a 2.29 ERA (165 ERA+) and 1.22 WHIP in 63 innings for the Indians while the 31-year-old Wilson had a 0.66 ERA (556 ERA+) and 0.88 WHIP in 13 2/3 innings for the Dodgers. All three are among the best relievers on the open market.
Of course, pitching in Colorado presents a unique set of challenges. The thin mountain air means fly balls travel farther and breaking balls don't break as sharply. That latter point tends to get overlooked. When the Rockies look for bullpen help this winter, they could opt to focus on pitchers who get ground balls and/or rely heavily on their fastball. Easier said than done, obviously. Here are some top 10 lists featuring free agent relievers (min. 100 IP):
Highest Ground Ball Rate from 2011-13
Scott Downs, 62.5%
Javier Lopez, 61.2%
Eric O'Flaherty, 59.9%
Jamey Wright, 59.0%
Kameron Loe, 58.4%
Chad Qualls, 58.2%
Matt Albers, 55.5%
Fernando Rodney, 55.2%
LaTroy Hawkins, 54.8%
Smith, 54.8%
Highest Percentage of Fastballs from 2011-13 (per PitchFX)
Jose Valverde, 79.2%
Joel Hanrahan, 78.8%
Matt Thornton, 68.6%
Hawkins, 66.6%
Grant Balfour, 65.6%
Chad Gaudin, 56.7%
Jon Rauch, 54.9%
Mike Gonzalez, 53.5%
Darren Oliver, 51.6%
Joaquin Benoit, 45.9%
Hawkins is the only player who appears on both lists and, sure enough, he pitched for the Rockies during their pennant-winning 2007 season (141 ERA+). I'm assuming the Rockies were onto the whole "grounders and fastballs" thing a long time ago. Guys like O'Flaherty and Hanrahan will be looking to rebuild value following Tommy John surgery, so perhaps they could be targets.
Now, remember, it takes two to tango. Luring free agent pitchers to Coors Field is pretty tough unless the Rockies blow them out of the water financially. Wilson, Smith and Veras all are going to get lucrative offers from other clubs, offers that won't involve pitching in the most hitter-friendly environment in baseball. Colorado is going to have their hands full rebuilding their relief corps this winter.
Show Comments
Hide Comments