Report: White Sox nearly boycotted game over Adam LaRoche's son
White Sox players nearly boycotted Wednesday's game over the Adam LaRoche situation, according to an ESPN report.
On Wednesday, we learned White Sox DH Adam LaRoche opted to walk away from baseball because a new team policy prevented him from bringing his 14-year-old son Drake into the clubhouse on an everyday basis. The White Sox want to prevent distractions, basically.
In an appearance on ESPN's Mike & Mike radio show, ESPN's Karl Ravech said White Sox players nearly boycotted Wednesday's spring training game because they were so upset LaRoche was leaving. You can listen to the interview here. Here's a transcipt:
"This is a team that was not going to go out and practice, and furthermore, this was a team that ultimately said to the manager 'We're not going to go out and play in that game at 1:00.' You had a team that was willing to stand by the player and not participate in practice, and more so, not participate in an exhibition game."

...

The decision by (team vice president Kenny Williams) to limit the amount of time that a child can be in that clubhouse didn't sit well with the players. I think now we have set up in Chicago a situation where managers and players are universally, universally in the same corner and president and GM perhaps could be very much in a different corner and the separation needs to be in place."
Ravech said manager Robin Ventura intervened and told his players to play Wednesday's game because it was their job, and because LaRoche would want them to do so. Several players took to Twitter to support LaRoche, including White Sox outfielder Adam Eaton and Bryce Harper, LaRoche's former teammate with the Nationals:
Happy for @e3laroche and Drake.. Family comes first. Proud to have played along side such a great man/father. #Family #RoleModel

— Adam Eaton (@AdamSpankyEaton) March 17, 2016
Good for you Roche! Nothing like father and son in the clubhouse..It's a FAMILY game #FamilyFirst

— Bryce Harper (@Bharper3407) March 16, 2016
Furthermore, staff ace Chris Sale reportedly met with Williams and had a very "contentious" talk.
By all accounts, LaRoche is a quality clubhouse presence and beloved by his teammates.There does seem to be some unhappiness among ChiSox players because LaRoche has been pushed out the door, and also possibly because they feel management shouldn't get involved with clubhouse matters. That's for the players and manager to decide, right?
It's up to Ventura and Williams to smooth things over, because an unhappy clubhouse is a great way to sink a season. Everyone has to be on the same page, from the players to the coaching staff to the front office. That clearly is not the case on Chicago's south side right now.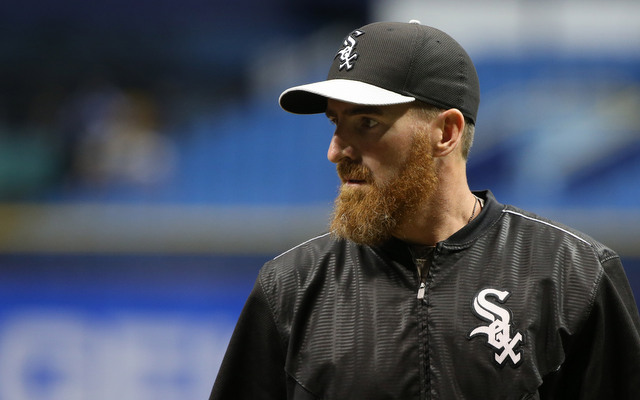 Show Comments
Hide Comments
Our Latest Stories
Ankiel melted down in the 2000 NLDS, then started drinking vodka before starts to calm his...

They want to make the home team take batting practice second so more fans can watch

Austin Bogart is okay after going through the fence, thankfully
In this case, 'Lucille' is a baseball bat covered with barbed wire

Fowler recently spoke out against President Donald Trump's travel ban

Gagne fell of the Hall of Fame ballot in 2014, his first year of eligibility