Report: Yasiel Puig arrested on reckless driving charge in Florida
Yasiel Puig was arrested on Saturday for reckless driving in Florida. He was reportedly going 110 mph in a 70 mph zone.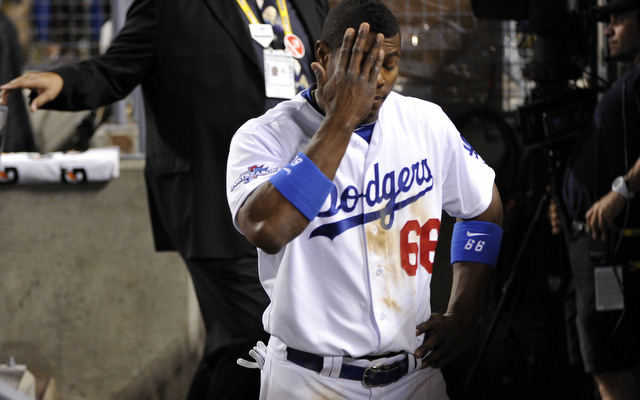 Dodgers outfielder Yasiel Puig was arrested Saturday morning on a reckless driving charge in Florida, reports the Naples Daily News. He was driving 110 mph on the Alligator Alley section of I-75 according to a Florida Highway Patrol spokesman. The speed limit is 70 mph.
According to the Daily News, Puig was driving a 2013 Mercedes westbound near mile marker 99. Alligator Alley (otherwise known as the Everglades Parkway) runs east-west from Naples to Fort Lauderdale and is prone to speeding because the road is flat and straight. The Dodgers have not yet commented on the arrest.
Puig, 23, had reckless driving and speeding charges dismissed in Tennessee last month after serving 12 hours of community service. He was caught going 97 mph in a 50 mph zone back in April, when he was with the team's Double-A affiliate in Chattanooga. Puig was reportedly serving as a designated driver at the time.
Puig hit .319 with 19 home runs in 104 games for the Dodgers in 2013. He finished second in the NL Rookie of the Year voting.
Show Comments
Hide Comments
Our Latest Stories
The franchise catcher is in his walk year, and two sides appear open to a contract extensi...

The good news is that an MRI showed no structural damage
He was re-assigned to minor league camp on Sunday

Brian Havrilla has done important work

Young Brody Chernoff, son of Mike Chernoff, was a guest in the Indians' radio booth recently,...