Reports: Dodgers, Giants both interested in Dan Haren
A pair of NL West clubs are showing interest in free agent righty Dan Haren as they look to bolster the back of their rotation.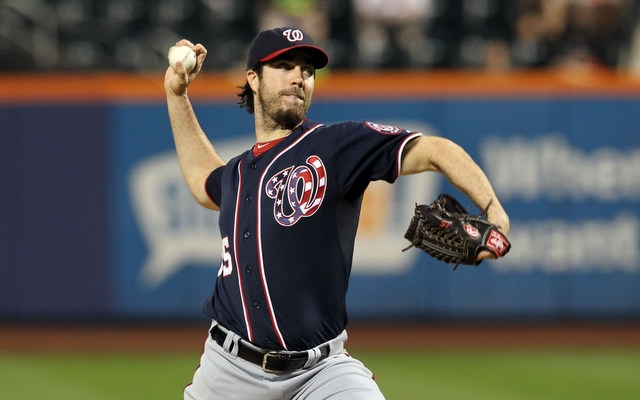 MORE: FA tracker: position players | FA tracker: pitchers
The Dodgers-Giants rivalry extends into the offseason. Both teams have interest in Dan Haren and have been in contact with the free agent right-hander, reports Mark Saxon of ESPN Los Angeles and Ken Rosenthal of Fox Sports.
San Francisco has already signed two pitchers this offseason. First they brought back Tim Lincecum for $35 million before adding Tim Hudson for $23 million, both on two-year contracts. Even with Lincecum back on board, the team still has to replace Ryan Vogelsong and Barry Zito after declining their 2014 club options. Matt Cain and Madison Bumgarner front the rotation.
The Dodgers lost have a strong front three (Clayton Kershaw, Zack Greinke, Hyun-Jin Ryu) but also have two starters returning from major injury (Josh Beckett and Chad Billingsley), so it's no surprise they're seeking another arm. Ricky Nolasco, Edinson Volquez and Chris Capuano are all free agents.
Haren, 33, went 10-14 with a 4.67 ERA (81 ERA+) and 4.87 K/BB in 169 2/3 innings for the Nationals last season. He was terrible (6.15 ERA) prior to a late June/early July shoulder-related DL stint and outstanding afterwards (3.29 ERA). Given his high fly ball rate (39.7 percent since 2011), moving into a spacious ballpark in the NL makes sense for Haren at this point of his career.
If you want to read (too) far into things, Haren is from Southern California and could prefer to stay closer to home. The Dodgers might also be able to make a larger offer given their deep pockets. The Giants have already handed out two pitching contracts worth $10+ million annually this winter. They might not want to do a third.
Show Comments
Hide Comments
Our Latest Stories
A storm and slow drainage is to blame for the flooded field

Yoenis Cespedes, Jose Abreu, and Yasiel Puig headline the lineup

Batting practice? We're talking about batting practice?
MLB is working with Rawlings to produce a baseball with natural tact

No, this isn't one big marketing gimmick for the Mets. Why do you ask?

Scherzer has been dealing with a stress fracture in his right ring finger since last seaso...