Reports: Former big leaguer Jai Miller to join Alabama football team
Jai Miller, who played a total of 28 games in the big leagues for the Marlins, Royals and A's, has enrolled in classes at the University of Alabama with the intention of joining the Crimson Tide football team.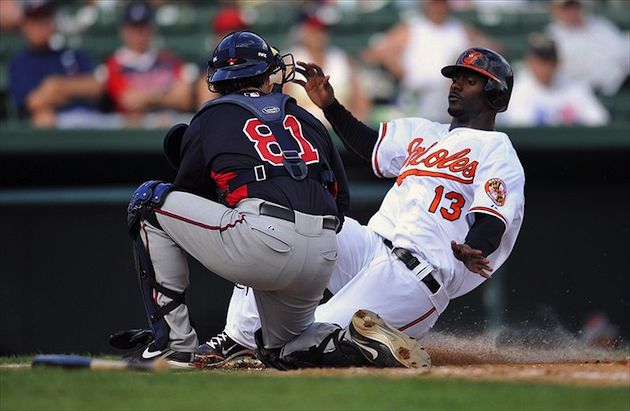 Jai Miller will be a 28-year-old freshman for the Alabama Crimson Tide. (US Presswire)
Former big leaguer Jai Miller is headed back to school. The outfielder who played a total of 28 games for the Marlins, Royals and A's, has enrolled at the University of Alabama and will join the Crimson Tide football team, according to a report by BamaOnline.com.
Miller, who will turn 28 on Jan. 17, signed with Stanford out of high school, but signed with the Marlins when he was taken in the fourth round of the 2003 draft.
Miller had 16 hits, including two home runs, in 73 plate appearances in the big leagues, his last action coming in seven games for the A's in 2011. Last season he played for the Orioles' Triple-A Norfolk and Double-A Bowie affiliates, hitting .196/.299/.365 with 12 home runs for the two teams.
He hit .276/.368/.588 with 32 home runs for the A's Triple-A Sacramento team in 2011, his best season as a pro. He finished with 137 homers in parts of 10 minor-league seasons, hitting just .239/.326/.419 while struggling with strikeouts. He struck out a total of 1,313 times in 4,114 plate appearances over his minor-league career.
Miller was recruited by Stanford, Alabama, Auburn and Georgia Tech as a senior at Selma High School in Alabama, where he played quarterback and safety. The state player of the year in basketball as well, Miller also planned to play basketball at Stanford before signing with the Marlins.
The Baltimore Sun's Eduardo A. Encina wrote a good story about Miller's background during spring training. Miller survived a car accident that killed both his mother and grandmother when he was 13 and was then raised by his grandfather, earning a 4.0 GPA in high school and the scholarship to Stanford.
Matthew Elliott, Miller's brother-in-law, told BamaOnline.com that Miller would start his football career with the Crimson Tide as a safety.
"I think the desire was there on both sides to get him back into football and see what he's capable of doing," Elliott said. "If the opportunity is there for him to play professional ball, then the best situation for him would be to play for one of the best coaches in the game and that would be coach (Nick) Saban on the defensive side."
Classes start at Alabama on Monday, the same day Alabama plays Notre Dame for the BCS championship.
Miller chose Alabama over Georgia, according to the article.
For more baseball news, rumors and analysis, follow @EyeOnBaseball on Twitter, subscribe to the RSS feed and "like" us on Facebook. Follow C. Trent Rosecrans on Twitter here: @ctrent.
Show Comments
Hide Comments