Reports: MLBPA files grievance against Astros for draft
The MLB players union has reportedly filed a grievance against the Astros for manipulating the draft system with regard to top overall pick Brady Aiken and two later selections.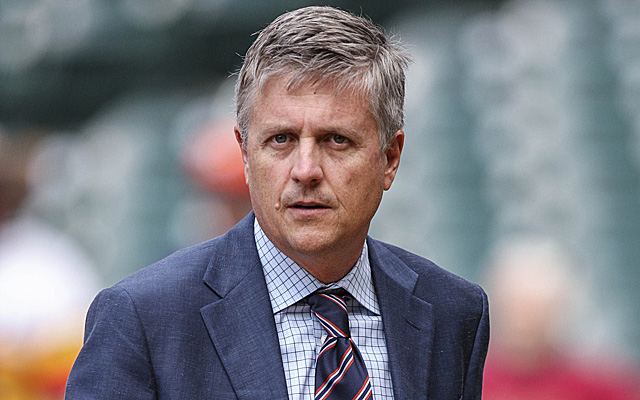 More MLB: Power Rankings | Expert Picks | Latest news & notes | Fantasy news
The Houston Astros just became the first team in decades to fail to sign the number one overall pick in the June draft (Brady Aiken), and they also failed to sign fifth-round selection Jacob Nix and 21st rounder Mac Marshall. Now, the MLB Players Association has filed a grievance against the club for manipulating the draft system, per multiple reports (Murray Chass, Ken Rosenthal and Evan Drellich).
The claim of manipulation involves the three aforementioned players and there's a bit of a trickle down effect from Aiken's situation.
With the draft's current setup, each club has a total pool of money to be used on draft picks in the first 10 rounds, with each individual pick having a "slot value." If a club can sign a player for less than the slot value, they're able to spend more money to lock up other draftees. This is where things happened with regards to the Houston draft.
The slot value for the top overall pick was just shy of $8 million. Once the Astros reportedly reached a verbal agreement with Aiken at a reported $6.5 million, it meant they could afford to go over slot for Nix -- who was valued higher than he was picked, but fell in the draft since he had already announced his intention to attend college rather than sign. With the planned savings on the Aiken signing, though, the Astros reportedly went far over slot value with Nix to reach a reported agreement.
But once concerns about Aiken's elbow arose -- it's not a torn ligament issue, but instead some sort of abnormality that concerned the Astros -- everything pretty much fell apart. The Astros offered just about $5 million to Aiken at the last minute and he didn't agree. Without the savings from the first-round slot -- if a player doesn't sign, the pool just acts like there was no pick and, hence, no slot money -- the Astros couldn't afford to go over slot for Nix without going over their pool for the first 10 rounds. Apparently the MLBPA believes Marshall was affected here, too.
In sifting through all available reports, Astros GM Jeff Luhnow, MLBPA director Tony Clark and Aiken's advisor, agent Casey Close, are only offering up silence or a "no comment" at this point. So for now, this is just about all we know.