Reports: Teams have interest in Drew Storen and Danny Espinosa
The Nationals are finding trade interest in both righty Drew Storen and infielder Danny Espinosa.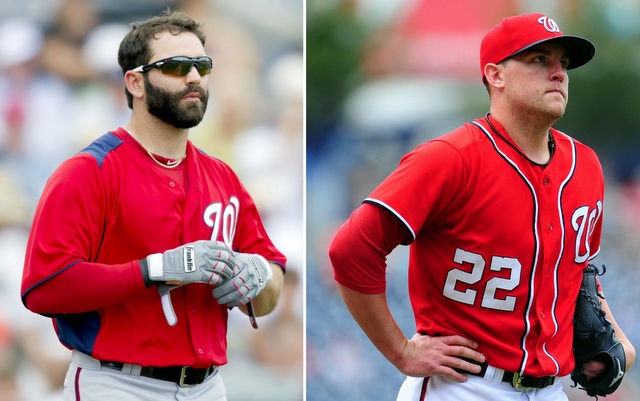 MORE: FA tracker: position players | FA tracker: pitchers | Winter Meetings updates
According to Adam Kilgore of the Washington Post, the Cubs have interest in Nationals right-hander Drew Storen for their open closer's job. He says this is a "feeling out" stage more than anything.
Storen, 26, had a 4.52 ERA (84 ERA+) with a 3.05 K/BB in 61 2/3 innings this past season while spending some time in the minors. He saved 43 games with a 2.75 ERA (140 ERA+) as recently as 2011, but had elbow surgery prior to 2012. There is some belief the Nationals have soured on Storen over the last year or so.
In other news, Jeff Passan of Yahoo! Sports reports the Nationals are shopping infielder Danny Espinosa. Kilgore says both the Rays and Cardinals have tried to acquire him in the past.
The 26-year-old Espinosa hit an awful .158/.193/.272 (27 OPS+) in 44 games this season before being sent to Triple-A, where he hit .216/.280/.286 in 75 games. He has played through shoulder and wrist injuries in recent years. From 2011-12, Espinosa hit .242/.319/.408 (97 OPS+) with 38 home runs and 37 stolen bases while playing second base and shortstop.
After adding Doug Fister and Nate McLouth, the Nationals don't have much shopping to do this winter. Beefing up their bullpen and bench is the only real pressing item, so trading Storen and Espinosa doesn't make sense in that regard.
Show Comments
Hide Comments