Republicans and Democrats agree: Let Teddy win
After John McCain went public for his support of Teddy Roosevelt winning the Nationals' presidents race, White House Press Secretary Jay Carney agreed and noted President Barack Obama does as well.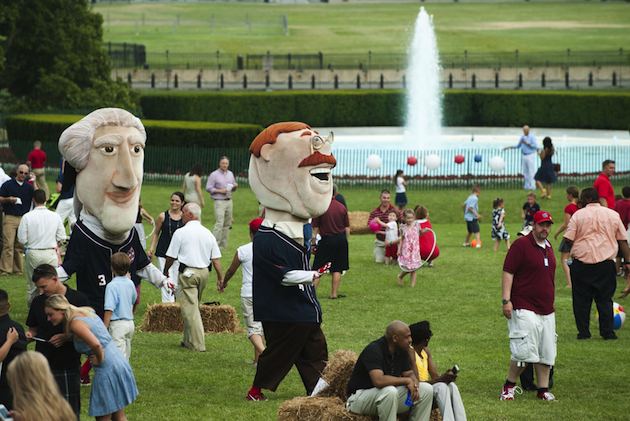 Teddy Roosevelt won an election but has never beaten Thomas Jefferson in this race. (Getty Images)
In this election year, there are few issues that can get bipartisan support -- but both Democrats and Republicans seem to be united behind one member of the Grand Old Party, Teddy Roosevelt. Our 26th president is may have won the 1904 election over Democrat Alton B. Parker, but he has never won the Nationals' Racing Presidents race.
For years Nationals have rooted on the underdog and his big stick, but no matter how close he's come to victory, he's always fallen short. Perhaps that earned him the sympathies of another Republican who couldn't win the big one -- 2008 Republican presidential nominee John McCain told ESPN's E:60 that he was "outraged" by Roosevelt's loosing streak. From Let Teddy Win:
"Theodore Roosevelt is one of the great presidents in history," McCain says in the video. "I've been paying a lot of attention to the fact that one of the truly great presidents in history has never won a race. I'm outraged. That's why I'm calling for congressional hearings to right this horrible wrong."
Thursday, White House Press Secretary Jay Carney weighed in on the debate (from the Washington Post):
"I agree with Senator McCain. I'm comfortable saying that my boss agrees with Senator McCain. After all, it was President Obama who gave the speech I'm sure you all remember in Osawatomie, Kansas last year — a place and a speech that is very resonant in the history of President Theodore Roosevelt."
It's a small step, but for all of us who have grown tired of watch the back-and-forth bickering and constant attack ads, it's nice to see the two sides can find at least a little common ground.
For more baseball news, rumors and analysis, follow @EyeOnBaseball on Twitter, subscribe to the RSS feed and "like" us on Facebook.
Show Comments
Hide Comments