R.I.P., 2013 Seattle Mariners
Now that they have officially been eliminated from the postseason picture, it is time to pay our respects to the 2013 Mariners.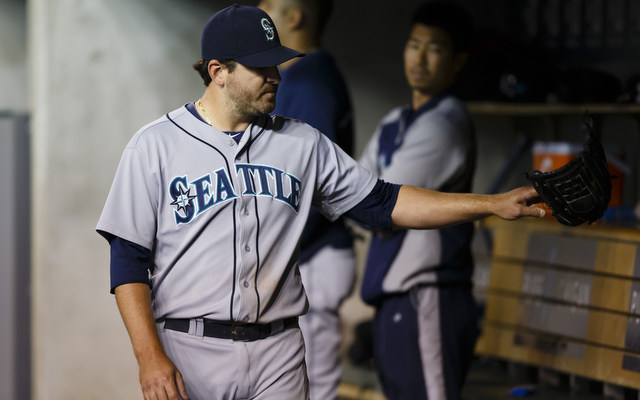 RIPs: Astros | Marlins | White Sox | Cubs | Brewers | Mets | Giants | Rockies | Twins | Phillies | Padres
The Seattle Mariners went after power last offseason and they got it -- they are third in MLB with 171 home runs this year after finishing 19th with 149 home runs last year. The end result is the same though; Seattle is not going to the postseason and they are in danger of losing 90+ games for the third time in the last four years. Let's say our goodbyes to the 2013 squad now that they've officially been eliminated from playoff contention.
What went right
Felix Hernandez continued to be brilliant (123 ERA+) and the Mariners unearthed the co-ace in Hisashi Iwakuma . He has pitched to a 129 ERA+ in 203 2/3 innings as a full-time starter after biding his time as a seldom-used longman for much of last season. Kyle Seager broke out with 22 homers and a 125 OPS+ while Justin Smoak (16 HR and 114 OPS+) started to show some life. Nick Franklin (93 OPS+) and Brad Miller (104 OPS+) showed promise on the middle infield after being called up at midseason. Raul Ibanez (27 HR and 126 OPS+) and Kendrys Morales (22 HR and 127 OPS+) provided thump as expected.
What went wrong
Although he has performed well since being called back from the minors, Dustin Ackley had to change positions and has been a disappointment overall (91 OPS+). Jesus Montero was awful before being sent down (69 OPS+) and has since been suspended 50 games for his ties to Biogenesis. Closer Tom Wilhelmsen (95 ERA+) struggled so much that he lost his closer's job and was sent to the minors. Young arms like Brandon Maurer (52 ERA+) and Erasmo Ramirez (75 ERA+) didn't perform well in their limited opportunities. And finally, the Mike Morse (96 OPS+) for John Jaso (118 OPS+) trade worked out terribly. That about sums it up.
MVP: Seager, Felix and Iwakuma are the three obvious candidates. Iwakuma actually leads the team with 6.1 WAR and not by a small margin either -- Hernandez is second at 5.1 WAR. Let's go with Iwakuma. WAR makes life easy.
LVP: No shortage of candidates but I'll go with Morse over Montero simply because of playing time. Yeah, Morse hit some homers (13), but he didn't get on base (.283 OBP) and was a big negative on defense. Considering what they gave up to get him -- not that Jaso is a superstar or anything -- this one stings.
Free agents to be: C Henry Blanco , OF Endy Chavez , OF Franklin Gutierrez , OF Raul Ibanez, 1B Kendrys Morales, LHP Oliver Perez , C Humberto Quintero , LHP Joe Saunders . The Mariners hold a 2014 club option for Gutierrez ($7.5 million).
Gameplan heading into the offseason
Hernandez and Iwakuma are locked up for another few years and the Mariners have young pitching on the way -- Taijuan Walker and James Paxton both made their big league debuts in recent weeks -- so the pitching it pretty well set. Ackley, Franklin, Miller and Mike Zunino will get more opportunities to show they belong like Seager and Smoak did this year, so there's not much do offensively either. They could bring in a veteran innings-eater (like Saunders!), a corner outfielder (like Ibanez!) and a DH (like Morales!) just to plug some holes and add stability. The bullpen could use some work and grabbing a veteran reliever(s) who could be flipped for a prospect at the trade deadline is always a good idea for a rebuilding team. The Mariners don't have a ton of needs aside from their young players taking steps forward.
Ridiculously premature prediction for 2014
Prospects and young players have a way of breaking hearts, and counting on so many to develop and hit their stride at the same time is a risky proposition. It can happen, just look at the 2008 Rays or even the 2013 Pirates, but it is risky. With the Athletics and Rangers in the division as well as the sure-to-spend Angels, it's hard to predict anything more than a third place finish for Seattle in 2014. There aren't many teams with this much young talent both on the infield and on the mound though.
Show Comments
Hide Comments