R.I.P., 2013 Texas Rangers
For the third straight year, the Rangers fell just short. This time it was a tiebreaker game. Time to pay our last respects.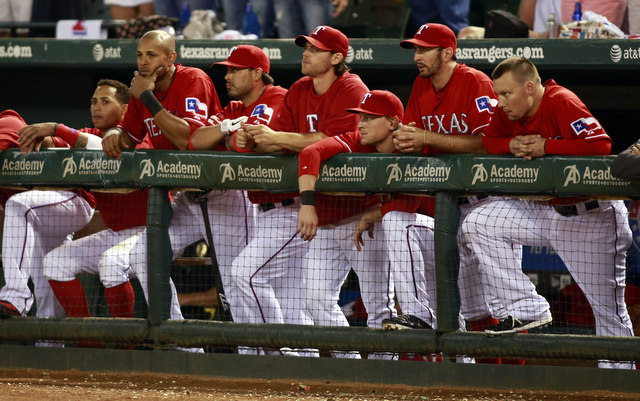 RIPs: Astros | Marlins | White Sox | Cubs | Brewers | Mets | Giants | Rockies | Twins | Phillies | Padres | Mariners | Blue Jays | Diamondbacks | Angels | Nationals | Orioles | Royals | Yankees
The Texas Rangers kinda sorta made the playoffs this year. They tied with the Rays for the second wild-card spot and had to play a one-game tiebreaker on Monday night, but Texas ran into a buzzsaw named David Price and suffered a 5-2 loss. They're heading home, which means it's time to review the season that was in Arlington.
What went right
Despite dealing with a ton of pitching injuries, the Rangers received good to great seasons from Yu Darvish , Derek Holland and Martin Perez . Darvish struck out 277 batters, the most in the AL since Pedro Martinez in 2000 (284). Holland was very good and Perez emerged as a legitimate Rookie of the Year candidate after a broken forearm delayed the start of his season. Those three combined for a 3.24 ERA in 547 innings.
Adrian Beltre led the league in hits (199) and remained elite both at the plate and in the field. He was the team's best position player from start to finish. Ian Kinsler was very good yet again, and before being handed a 50-game suspension for his ties to Biogenesis, Nelson Cruz was among the league home run leaders. Youngster Leonys Martin stepped into the center field job and was solid overall and brilliant at times. The Martins (Leonys and Perez) give Texas two more young, cornerstone type players on the cheap.
What went wrong
The Rangers dealt with a lot of pitching injuries this season. Colby Lewis and Neftali Feliz were expected to miss the first half after having elbow surgery late last year, but their returns were delayed. Lewis missed the entire season while Feliz was limited to 4 2/3 innings. Opening day starter Matt Harrison made two starts before suffering a season-ending back injury. Alexi Ogando and Perez both missed time with injuries as well. At one point this summer, Texas had a full five-man rotation on the DL. That prompted them to trade for Matt Garza , and he wasn't all that helpful down the stretch.
On the offensive side, the Rangers got very little from both David Murphy and Lance Berkman . The latter missed time with injury as well. Elvis Andrus didn't hit a lick for the first half of the season and Cruz had his season cut short by his suspension. Jurickson Profar , baseball's top prospect, got an extended look but provided little impact. Beltre was the team's only to player to stay healthy all season and produce at an above-average level.
MVP: Beltre, almost by default. It's pretty clearly him or Darvish.
LVP: No obvious candidate, so I'll go with Berkman. They expected more than six homers and a .700 OPS.
Free agents to be: UTIL Jeff Baker , DH Lance Berkman, OF Nelson Cruz, RHP Jason Frasor , RHP Matt Garza, RHP Colby Lewis, RHP Joe Nathan , C A.J. Pierzynski , C Geovany Soto . Nathan can void the $9 million club option in his contract for 2014. Berkman has a $12 million club option for next season that won't be picked up.
Gameplan heading into the offseason
The Rangers will have a lot of work to do this winter with their starting catcher, a starting outfielder, two starting pitchers and their closer all due to become free agents. Harrison will be coming back from injury and Feliz will be further away from Tommy John surgery, so two of those holes can be filled internally. It's clear the team still needs another power bat for the middle of the lineup even after the Alex Rios trade, maybe two. Martin and Andrus are in the lineup for their defense, not their bats, so the team has to make up the offense somewhere. Cuban slugger Jose Abreu sure makes a lot of sense, especially if Cruz won't be retained. Expect GM Jon Daniels to be very active this winter, as usual.
Ridiculously premature prediction for 2014
The Rangers blew the World Series in 2011, blew the AL West in 2012, and blew a wild-card spot in 2013. That makes it easy to forget they won 91 games this season. I do expect Texas to continue to be very good next year, and all those intra-division games against the lowly Mariners and super-lowly Astros will give them plenty of chances to fatten up their record. They're a playoff team with nothing more than a few minor tweaks and a division winner with two or three major moves.