Roberto Clemente, Josh Hamilton lead all-time Rule 5 All-Stars
The winter meetings conclude Thursday with the Rule 5 draft. While the names may not be familiar now, they could become stars in the years to come. We pick our all-time Rule 5 All-Stars, with the likes of Josh Hamilton, Johan Santana and even Roberto Clemente.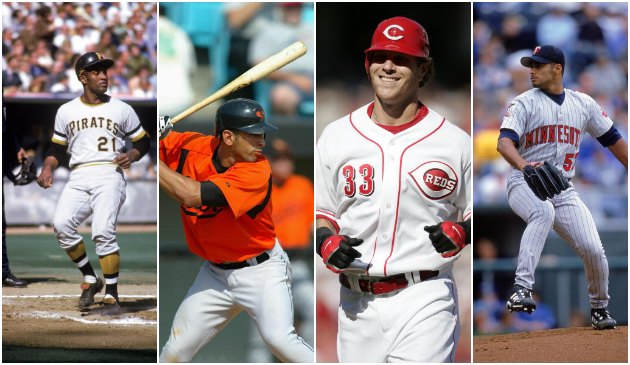 Roberto Clemente,

Jose Bautista

,

Josh Hamilton

and

Johan Santana

were all picked in the Rule 5 draft. (Getty Images)
The winter meetings will conclude Thursday with the annual Rule 5 draft, when major-league teams have the chance to poach players from other organizations who are not on the 40-man roster and have been in the minor-league system for too long.
A pick in the Rule 5 draft costs a team $50,000, and to keep the player, the selecting team has to keep the player on the major-league roster for the entire season, or then be offered back to their original team for half the price or a trade. There's also minor-league phases of the draft, but the big-league version is where most of the real action lies.
It's a gamble -- but it does produce players. Last year the Houston Astros took right-hander Rhiner Cruz with the first pick and he pitched in 52 games for Houston. Seattle took lefty Lucas Luetge from the Milwaukee Brewers , and he appeared in 63 games for Seattle, picking up two saves. Cubs right-hander Lendy Castillo and Baltimore Orioles infielder Ryan Flaherty also stuck last season after being picked in the big-league portion of the Rule 5 draft.
None of those is exactly a household name -- and it's certainly more common for teams to return their Rule 5 picks than for them to stick -- but a star can come out of the Rule 5 draft. Here's a quick look at an all-star team, of sorts, made up completely of those players who were Rule 5 picks and stuck with their team for an entire year to complete the process:
SP -- Johan Santana 1999 by Minnesota Twins from Astros
RP -- Willie Hernandez 1976 by Chicago Cubs from Philadelphia Phillies
C -- Jody Davis 1980 by Cubs from St. Louis Cardinals
1B -- Darrell Evans 1968 by Atlanta Braves from A's
2B -- Dan Uggla 2005 by Miami Marlins from Arizona Diamondbacks
SS -- Everth Cabrera 2008 by San Diego Padres from Colorado Rockies
3B -- Jose Bautista 2003 by Orioles from Pittsburgh Pirates
LF -- George Bell 1980 by Toronto Blue Jays from Phillies
CF -- Josh Hamilton 2006 by Cincinnati Reds (via Cubs) from Tampa Bay Rays
RF -- Roberto Clemente 1954 by Pirates from Los Angeles Dodgers
DH -- Bobby Bonilla 1985 by Chicago White Sox from Pirates
Honorable mentions: Joakim Soria , Mike Morgan, Jeff Nelson, Derrick Turnbow, Shane Victorino and Fernando Vina.
For more baseball news, rumors and analysis, follow @EyeOnBaseball on Twitter, subscribe to the RSS feed and "like" us on Facebook.
Show Comments
Hide Comments