Rockies are still talking Tulowitzki, and the Mets are one team listening
New New York and Colorado have been quietly talking about a deal for Troy Tulowitzki, though it isn't known whet the chances are yet.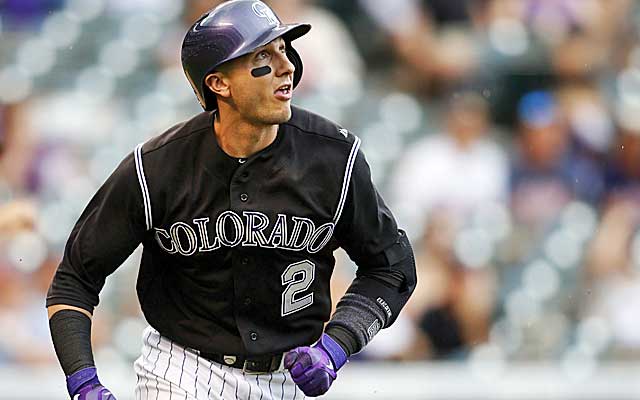 The New York Mets and Colorado Rockies have been quietly discussing a potential Troy Tulowitzki blockbuster for weeks, though it isn't known yet whether New York will have a decent chance to complete such a deal.
Prized Mets pitching prospect Noah Syndergaard is said to be the centerpiece of discussions revolving around a potential package of young players in a possible deal for Tulo, though it seems like there is still quite a ways to go to have a chance to complete such a monster trade.
New York and Colorado have been stealthily talking names for weeks, and while there's said to be some progress, it still feels like they are almost in the early stages with several hurdles to go, including ultimately whether the Rockies-owning Monfort brothers would sign off on such a deal for their beloved superstar shortstop.
Rockies GM Jeff Bridich has consistently said he is listening on both his superstars --Tulowitzki and outfielder Carlos Gonzalez  -- though it is known that Dick Monfort rebuffed an attempt or two on the part of other teams to start trade talks involving Tulowitzki. It is possible the Mets are of particular interest to the Rockies, though, and they were known to be a targeted team as far back as last year, even before Bridich was elevated to replace longtime GM Dan O'Dowd, another who had an especially close relationship with Colorado's franchise player.
There's said to have been a bit of progress in talks with the Mets over the winter, but people with knowledge of the discussions suggest there's still a long way to go and that the financial part of such a major transaction isn't close to being settled, irrespective of whether a player package can be agreed upon. One person characterized the chances for a deal as still "slim" while allowing that discussions are still ongoing.
While Tulowitzki's love for Denver, the area and organization, is such that he didn't even ask for a no-trade-clause when signing his team record $157-million deal, he has been in touch intermittently with the team about possible deals and has suggested at times that he would be at least open to considering a trade elsewhere. While he technically has no veto power over trades, his relationship with the Monfort brothers is so close that it is believed they wouldn't ship him somewhere he didn't approve -- though he is said to have been frustrated at times by the team's inability to overcome the Coors Field hurdle and find enough pitching to cope for the atmospheric issue.
It was reported here earlier this winter that Tulowitzki would likely approve at least a handful of teams, including the New York Yankees , San Francisco Giants , Los Angeles Dodgers , Los Angeles Angels and perhaps the St. Louis Cardinals . While some teams were considered a "no" for Tulo, it wasn't clear what his stance on the Mets was, and he is known to love New York. Tulo has has more success than anyone at the Mets' pitching-friendly Citi Field, with a lifetime .438/.534/..833/.1.368 slash line there, and the Mets moved the fences in again this winter,
It isn't known how many other teams could be involved with Tulowitizki at this time, though the Seattle Mariners are known to be one of several to have checked in at some point this winter, and at least the Boston Red Sox , Cardinals and Yankees have expressed at least some interest at some point over the past calendar year. It is known Tulowitzki would not favor a trade to Seattle, though that may not matter now as the Mariners' major winter shopping may be nearly finished and they are making it clear they have no interest in trading either of their two prized young pitchers --  Taijuan Walker or James Paxton .
The Mets are dealing from strength here, and that's what gives them a chance. They wouldn't consider dealing 2014 Rookie of the Year Jacob DeGrom or recovering ace Matt Harvey , so Syndergaard, the hard-throwing righthander teams rave about, is the natural bait. The Rockies would of course love to receive a shortstop in return, though it isn't known whether they have any interest in Ruben Tejada or Wilmer Flores.
Considering the Mets' excellent pitching prospect list, the bigger issue may be the money, and if the Mets are to give up top young players they'd expect a decent-sized financial return. Tulowitzki has $118-million remaining over six seasons, which isn't unreasonable considering his immense talent, but the Mets would expect some offset considering the top young players they'd have to surrender in such a deal.
The Dodgers- San Diego Padres Matt Kemp deal, in which Los Angeles sent $32 million to San Diego but received three good young players back, could provide a template for a deal, should it ever get to that point.
 Tulowitizki had a brilliant first three months of 2014, hitting 21 home runs and posting a .340 batting average and 1.035 OPS in 91 games before he was felled by a hip injury that required sugrery, and that is another big potential issue in talks, though it is said that his rehab is going very well. He is running now but hasn't yet begun baseball activities -- though most seem to think he has a decent chance to be ready for the season. The question now is whether that season will be in Colorado for him, as it always has.
Show Comments
Hide Comments