Rockies follow the new trend with Weiss hire, and more meetings notes
As crazy as it seemed, even to him, the White Sox were right to hire Robin Ventura. The Cardinals were right to hire Mike Matheny. Does that mean the Rockies are right to hire Walt Weiss? Maybe he'll prove them right, but is this trend really worth following?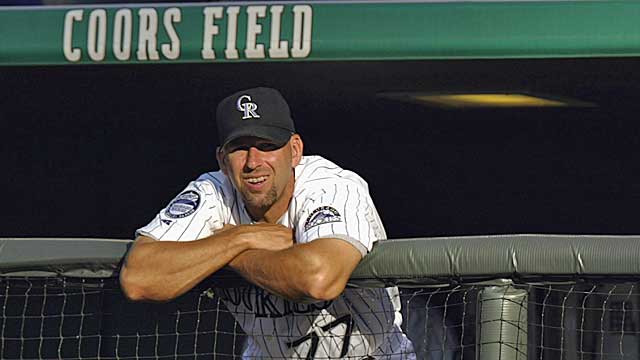 Weiss has never been a full-time coach or manager, but is a familiar face in the Rockies organization. (Getty Images)
INDIAN WELLS, Calif. -- Baseball teams follow trends, especially successful trends.
So when Robin Ventura succeeded with the Chicago White Sox , and Mike Matheny succeeded with the St. Louis Cardinals , you knew it wouldn't be long before another team tried a totally unproven manager.
Walt Weiss as Colorado Rockies manager?
Why not?
He was a high school coach last spring, but why not? He's never been a full-time coach or manager anywhere else, but why not?
Here's why not: Because if teams keep following this trend, they're certain to fail more often than they succeed.
Managing a big-league team is a tough job, much tougher than Ventura and Matheny made it seem. Hiring a guy with absolutely no professional managing or coaching experience is as nuts as Ventura thought it was when the White Sox first approached him for the job.
It turned out the White Sox were right. It turned out the Cardinals were right.
Does that mean the Rockies are right, too?
As well respected as Weiss was as a player, they probably aren't right. But maybe he'll do as well as Ventura and Matheny did.
If so, maybe no one will ever hire an experienced manager again. 
More notes from the first full day of the general managers' meetings:

•  When the Mets announced Wednesday that had agreed to "part ways" with Jason Bay , it was basically a nice way of saying they released him. But there were some differences, beyond Bay's agreement to accept some of his remaining $21 million as deferred money. The biggest difference is that if Bay had been released, any other team could have signed him for 2013 for the major-league minimum. Now, instead, Bay can negotiate any contract he can get, and keep all the money.

Bay's struggles in New York Mets mean that he won't get huge money, obviously. But quite a few teams could have interest in taking a flyer on him, including possibly the Seattle Mariners , Pittsburgh Pirates , Cleveland Indians and Boston Red Sox .
•   Atlanta Braves general manager Frank Wren confirmed that his team's clear preference is to add a right-handed hitter in the middle of the lineup, which would seem to rule out Josh Hamilton , but not Justin Upton . The Braves can add money, both because Chipper Jones retired and Michael Bourn is likely to leave as a free agent, and also because they expect their overall payroll to go up a little this year.

But the Braves also expect the arbitration-eligible players they plan to keep to go from making about $10-11 million in 2012 to making about $29 million in 2013.

"We have plenty of flexibility," Wren said. "But it may not be as much as advertised."

•  The Philadelphia Phillies also strongly prefer a right-handed hitter to add to the middle of their lineup, no surprise given that both Chase Utley and Ryan Howard bat left-handed.

•  The Texas Rangers aren't saying there's no chance that they trade Elvis Andrus , but the chances seem slim. So how will they fit Jurickson Profar into the 2013 infield, as they still seem determined to do? The most likely option seems to be moving Ian Kinsler to another position, either the outfield or first base.

•   Vernon Wells started 12 of the Los Angeles Angels ' final 21 games last year, but general manager Jerry Dipoto insisted again Wednesday that Wells will be the team's fourth outfielder in 2013. Dipoto called Mike Trout , Mark Trumbo and Peter Bourjos the team's "three primary outfielders."

•  The A's still don't have an answer on their attempt to move to San Jose, and general manager Billy Beane said he's not absolutely counting on getting one soon. Owner Lew Wolff said in September that he expected the decision to be settled within a year.

"I think we all believe that, but it may be our wishful thinking," Beane said. "That was the great thing about this year. It was a great distraction."

Beane praised Detroit Tigers manager Jim Leyland for openly saying before Game 5 of the Division Series that he planned to keep Justin Verlander in the game until it was decided. Beane said that kept the A's from thinking they could get Verlander out of the game and win against the Tigers bullpen.

"I'm not sure our players saw it, but it psyched me out," he said.

•  The Baltimore Orioles are committed to keeping Manny Machado at third base in 2013. Machado was a shortstop all the way through the minors, and even when he came up to the big leagues as a third baseman, there was talk that the move could be temporary. But the Orioles are committed to J.J. Hardy at shortstop, and believe Machado could become a gold glove third baseman.
Show Comments
Hide Comments