Rockies owner says 'maybe Denver doesn't deserve a franchise'
For the second time this week, Rockies owner Dick Monfort has managed to put his foot in his mouth.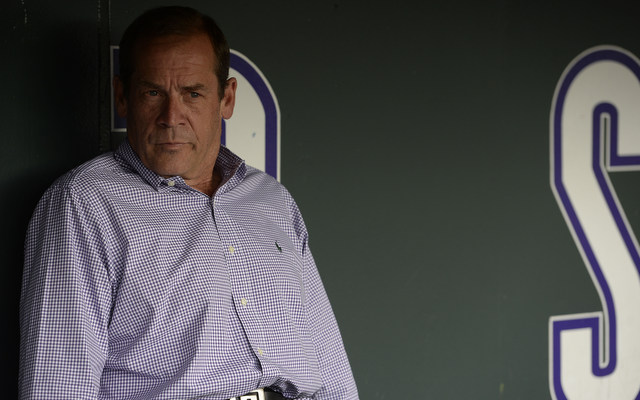 More MLB: Power Rankings | Expert Picks | Latest news & notes | Fantasy news
Somehow Rockies owner Dick Monfort has taken things from bad to worse. Just two days after news broke that he told a frustrated fan "if product and experience are that bad, don't come," an email exchange with another fan has surfaced with even more damning quotes.
The emails, which were obtained by Brian Maass of CBS Denver, were exchanged from July 5-7 between Monfort and a fan who asked to remain anonymous. The fan sent the following to the team:
"The Monforts have no business owning a baseball team and their missteps in hiring 'the good old boys' for front office and management positions is solid evidence of their ineptitude. They have ruined pro baseball in this region while generating millions of dollars in profit.'"
The fan told Maass he did not expect a reply, but instead the email made its way up the ladder to Monfort, who personally responded the next day. His response:
"By the way you talk maybe Denver doesn't deserve a franchise, maybe time for it to find a new home. Thanks."
Yikes. It's bad enough the owner told fans not to come to the ballpark if they are disappointed in the team, but suggesting the market is not good for baseball and that maybe the franchise should relocate is next level bad customer relations.
And, in case you're thinking the emails and story may have been fabricated or embellished, Monfort confirmed the exchange in a phone call with Maass.
The message was sent from Monfort's iPad and in a phone call with CBS4 Thursday night, Monfort confirmed sending the email.

"I sort of remember," said Monfort. "I do remember that. I was rapid firing it."

But Monfort now says what he wrote was not what he intended to write.

"I don't even have an idea what I meant to say," said Monfort.
The Rockies, despite their struggles in recent years, tend to do very well in attendance. They have averaged at least 32,000 fans per game since 2008 according to Baseball-Reference, and the last time they ranked lower than seventh in the NL in attendance was 2009, when they ranked eighth. This year they are averaging 33,480 fans per game, fourth most in the league.
Baseball can and absolutely has worked in Denver, a non-traditional and isolated cold weather market. Colorado itself is a surprising hotbed for baseball talent, particularly pitching talent. Hall of Famer Goose Gossage and the great Roy Halladay hail from the Denver area, as do Mark Melancon and Kevin Gausman, among others. There is plenty of interest in the sport in the area and the attendance numbers reflect that.
The team's biggest issue might be that attendance -- there has not been a significant attendance dip despite the team's issues over the years, so management was never forced to reconsider their team-building strategies. They constantly seem to be in a state of halfway going for it with veteran signings (Michael Cuddyer, Justin Morneau, etc.) and halfway rebuilding by trading away young players (Dexter Fowler, Chris Iannetta, etc.).
Monfort lashing out at fans the way he did -- "if you don't like the team, don't come" and "maybe Denver doesn't deserve a franchise," basically -- is one of the worst possible things an owner can do in my book. He needs to look in the mirror and realize that Rockies fans have been more loyal than he has deserved as an owner.
(h/t Purple Row)
Show Comments
Hide Comments