Roy Halladay retires as a Blue Jay
Ace pitcher Roy Halladay is retiring from baseball. He announced the decision as he also announced he's signed a one-day contract with Toronto to retire as a Blue Jay.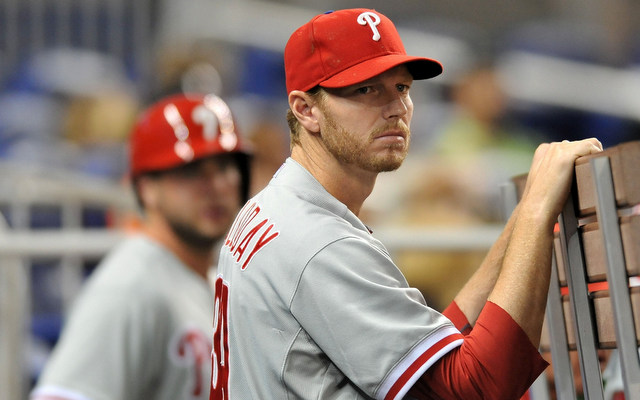 Snyder: Yes, Halladay is absolutely a Hall of Famer
ORLANDO, Fla. --  Roy Halladay has retired from baseball, as first reported by Jon Heyman of CBSSports.com.
The long-time ace announced his retirement in a Blue Jays press conference Monday during the MLB Winter Meetings, in which he also announced he signed a one-day contract with Toronto, so he can retire as a Blue Jay.
Halladay, 36, is coming off two injury-riddled campaigns where he failed to live up to his previously high standard of excellence on the hill. This past season he was 4-5 with a 6.82 ERA, which followed a year in which he was 11-8 with a 4.45 ERA.
Though shoulder woes were a problem in those two years, Halladay mentioned during his press conference that back issues were the reason for his retirement and that his shoulder feels healthy.
Those two injury-marred years do not, however, take away from an extraordinary career. Halladay ends up 203-105 with a 3.38 ERA (131 ERA+), 1.18 WHIP and 2,117 strikeouts in 2,749 1/3 innings. He also had 67 complete games, 20 shutouts and a perfect game.
"He was one of the best competitors who ever played this game and taught everyone around him to prepare the right way in order to be the best," former teammate Cole Hamels said. "For me, personally, he helped me understand the game more and gave me insight on how to become a top of the line starting pitcher."
In five career postseason starts, Halladay had a 2.37 ERA, 0.74 WHIP and one no-hitter -- which came in his first career postseason start.
In terms of the hardware, Halladay won two Cy Youngs. He also finished in the top five of Cy Young voting seven times while being an All Star eight times. He also finished in the top 10 of MVP voting twice.
Drafted and developed by the Blue Jays, Halladay debuted with Toronto in 1998 and would spend the first 12 years of his MLB career with the Jays. He was 148-76 with a 3.43 ERA (133 ERA+) in his time with Toronto. If he ends up a Hall of Famer, he'll certainly be wearing a Blue Jays cap on his plaque.
At least one former teammate believes he should, too.
"Roy was one of the best pitchers and students of the game I've ever had the honor of playing with," Roy Oswalt said in a statement. "Hands down, he was the best pitcher of this era and a first ballot Hall of Famer."
Show Comments
Hide Comments