Roy Halladay throws 87 pitches in rehab start
Phillies starting pitcher Roy Halladay has been out since May 5 and is recovering from shoulder surgery. He took a big step forward Tuesday.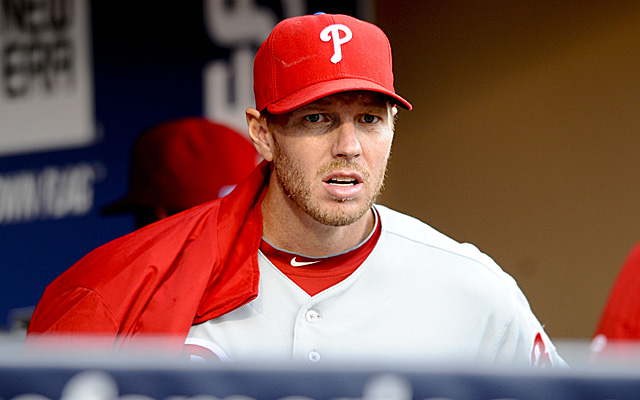 More MLB: Scoreboard | Standings | Probable Pitchers | Sortable Stats | Odds
Phillies starting pitcher Roy Halladay took a big step forward in his recovery from shoulder surgery Thursday. In a rehab start for the Gulf Coast Phillies (Rookie ball), Halladay worked six innings, allowing six hits, three earned runs and three walks. He struck out four (MiLB.com box score).
It's tough to get a good read at Halladay's stuff from looking at a Rookie-level box score. That's the lowest level of regular-season professional baseball. Perhaps the most important takeaway is that he was able to throw 87 pitches in a game. That's a big workload for a guy attempting to return from shoulder surgery.
"I spoke with Roy today, and with people who were there to evaluate him, and they feel that he continues to make progress," general manager Ruben Amaro Jr. said in a statement. "He is not as crisp as he wants to be yet. It is likely that he will have at least one more rehab start. He is scheduled to throw a bullpen in Philadelphia on Saturday and we'll know where he will pitch on Tuesday once he completes that session."
Halladay's next start, surmises Phillies beat writer Matt Gelb, could come Tuesday for Triple-A Lehigh Valley. At that point, we'll be able to get a much better read on Halladay's status.
Halladay, 36, hasn't pitched for the Phillies since May 5, as he had to have surgery to clean up bone spurs, a frayed labrum and a partially torn rotator cuff. The club has never put a specific timetable as to Halladay's potential return.
With the Phillies obviously not in playoff contention, they don't have a great need for Halladay to return, but Halladay himself has one. He's a free agent after the season, as he's not going to have enough innings pitched for his $20 million option for 2014 to vest.
Halladay is 2-4 with an 8.65 ERA, 1.46 WHIP and 35 strikeouts in 34 1/3 innings this season. He's an eight-time All-Star and two-time Cy Young winner.
Show Comments
Hide Comments