Royals closer Joakim Soria may need Tommy John surgery
The Royals told CBSSports.com Insider Danny Knobler that closer Joakim Soria has damage in his ulnar collateral ligament in his right elbow. Soria would miss the entire season if he needs Tommy John surgery. Jonathan Broxton or Greg Holland could close if Soria's not available.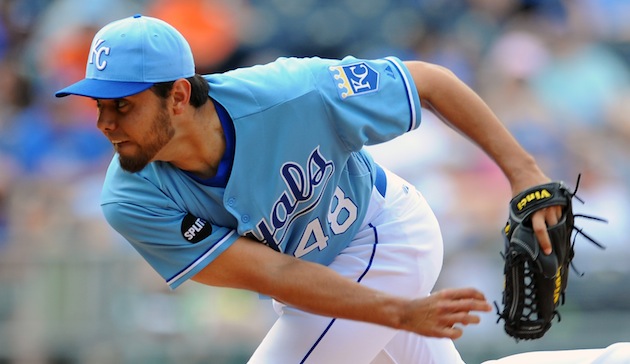 Just about any Royals fan has to think back to 2010 when the team reportedly turned down an offer of Jesus Montero for closer Joakim Soria. Soria struggled in 2011 and now he may not pitch in 2012, as the team said an MRI revealed damage in his ulnar collateral ligament in his right (pitching) elbow, CBSSports.com Insider Danny Knobler confirms.
It appears Soria, 27, will need Tommy John surgery and is likely to miss the entire season. That decision could come after Tuesday's follow-up with Dr. Lewis Yocum in Los Angeles,
according to Bob Dutton of the Kansas City Star
.
While the details aren't exactly clear at this point, a torn ulnar collateral ligament means Tommy John surgery and the loss of an entire season. Soria had Tommy John surgery in 2003 when he was in the Dodgers organization.
After playing in his native Mexico and in the Padres' organization, the Royals took him in the 2006 Rule 5 Draft (one pick ahead of Josh Hamilton) and he imerged as the team's closer as a rookie in 2007. An All-Star in 2008, he had 42 saves in his second season and in 2010 he recorded a career-hgih 43 saves. That year the Yankees were looking for setup help and reportedly dangled Montero in trade talks, but the Royals decided to hold on to their closer.
Last season Soria struggled, going 5-5 with a 4.03 ERA and losing his closer's job for a time. He finished with 28 saves and the 27 runs he allowed were the most of his career.
The Royals hold team options on Soria for the next two seasons.
Without Soria, the team could turn to former Dodgers closer Jonathan Broxton, signed to a one-year, $4 million deal this offseason. The big right-hander is back to throwing in the mid-90s, Knobler reports.
The team also has 26-year-old right-hander Greg Holland, who saved four games last season.