Royals may consider Morales to aid their struggling offense
Kansas City needs to improve its offense, somehow, and one way might be to sign the free agent Morales. But to sign Morales, the small-market Royals would need to save money first by trading a big contract, likely DH Billy Butler.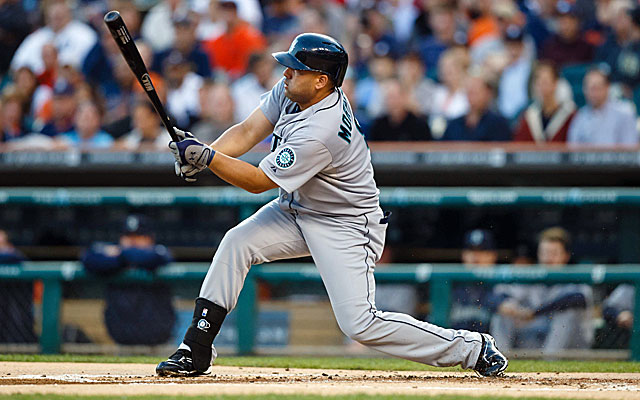 More MLB: Power Rankings | Expert Picks | Latest news & notes | Fantasy news
The Royals could be a surprise entry in the Kendrys Morales derby, but they'd probably have to offload some salary first.
Kansas City is weighing a run at Morales, according to sources, and considering the way their offense is going -- they are last in the American League in runs, OPS, home runs and slugging percentage -- maybe that shouldn't be such a surprise. But before the Royals could get serious about the free agent first baseman/DH, they'd probably have to move a big salary first in trade, possibly Billy Butler.
The small-market Royals are committed to more than $6 million for Butler through this season (the rest of his $8 million 2014 salary plus a $1 million buyout for next year), so if they can deal his salary they'd have more flexibility to go after Morales. However, with Butler having only one home run and a .249 batting average, they'd be hard-pressed to find someone to take Butler (and pay his contract).
The Royals have a $91 million payroll, and while that ranks about 20th in baseball, that's high by Kansas City standards. After going 86-76 last year, their first winning season since 2003, the Royals added free agents Omar Infante and Jason Vargas, giving them four-year deals, for $30 million and $32 million, respectively, and many believed Kansas City was primed for another step forward (including yours truly).
Butler's struggles are, in fact, one of the reasons Morales is any sort of consideration for the Royals, who have been a disappointment to date. Like Butler, first baseman Eric Hosmer also has only one home run, so KC is getting little production from either of Morales' positions -- not that they are considering sitting Hosmer.
The Royals' 213 runs, .656 OPS, 24 home runs and .351 slugging percentage all rank 15th in the American League.
The Brewers, Mariners, Rangers and Yankees also have been mentioned as possible players for Morales.
Show Comments
Hide Comments