Royals re-sign homegrown star Alex Gordon: Six things to know
The Royals have re-signed homegrown star Alex Gordon to a four-year contract. Here are six things to know about the deal.
After dipping his toes in the free-agency pool, homegrown star Alex Gordon is coming back to the Kansas City Royals. Gordon and the Royals agreed to a multi-year contract Wednesday, a move first reported by Jeffrey Flanagan of MLB.com. The deal is pending a physical and is expected to be announced sometime today. Jon Heyman of MLB Network reports the deal is for $72 million over four years. 
The Royals won the World Series in 2015, and reached it the season before with Gordon, who is one of the better defensive players of his era, playing left field. He hit a key home run in Game 1 of the Series against the Mets that tied the score in the ninth inning before the Royals won in 14.
Gordon batted .271/.377/.432 for a 120 OPS+ in 2015, one of his better seasons despite missing two months because of a groin injury. He's a career .269/.348/.435 (112 OPS+) hitter in parts of nine seasons.
Gordon, the second overall pick in 2005 by the Royals, explored free agency after the season and it appeared he might sign elsewhere for a time. He turns 32 in February.
Here are six things to know about Gordon's new contract.
1. Gordon's deal is the richest in team history.
At four years and $72 million, Gordon's new contract is the richest in Royals history. The previous record was identical five-year, $55 million contracts signed by Gil Meche and Mike Sweeney. Gordon's previous four-year, $37 million deal was also one of the richest in team history.
The Royals are one of only seven teams that have yet to hand out a $100 million contract in their history. They join the Athletics, Indians, Orioles, Padres, Pirates, and White Sox in that club. With the O's trying to re-sign Chris Davis and the ChiSox reportedly in the mix for Yoenis Cespedes, those two clubs may hand out their first ever nine-figure deal before the end of the offseason.
2. There is no change to the 2016 draft order.
The Royals did make Gordon the qualifying offer earlier in the offseason, but teams do not gain or lose a draft pick for re-signing their own qualified free agent. Kansas City will keep their first round pick (currently 25th overall) and that's that. No other changes.
Had Gordon signed with a different team, that team would have forfeited their highest unprotected draft pick, and the Royals would have picked up a supplemental first round draft choice. Those usually fall in the 30-35 overall range. Draft picks are nice, every team wants more of them, but Gordon is way more valuable to the team right now than a pick.
3. The Royals aren't done.
The Royals have lost several key pieces this offseason. Even while re-signing Gordon, they still lost Ben Zobrist and Johnny Cueto to free agency. Their only notable additions so far is Joakim Soria.
It is no surprise then that Gordon's new deal is reportedly structured in such a way that allows the team to make more moves this winter:
Sources: Gordon salary in 1st yr of four-yr, $72M deal is lower, giving #Royals chance to make other moves. Deal also includes deferrals.

— Ken Rosenthal (@Ken_Rosenthal) January 6, 2016
Rotation help figures to be at the top of their shopping list. Right now their rotation is Yordano Ventura, Edinson Volquez, Danny Duffy, Kris Medlen, and Young. Duffy was demoted to the bullpen last season, Young is unable to consistently pitch deep into games at this point of his career, and Medlen is not far removed from his second Tommy John surgery.
There's an awful lot of scary questions in that rotation behind Ventura and Volquez, who hardly qualify as predictable themselves. The Royals were said to be in the mix for Scott Kazmir earlier this offseason and may now look at cheaper rotation options like Doug Fister. Cliff Lee could be a good fit.
4. The Gordon-Royals marriage was too good to break up.
Gordon and the Royals are just perfect for each other. He was drafted and developed by the club, he is their longest tenured and one of their most popular players, and he helped them win the World Series in 2015.
In many ways, Gordon is the face of the franchise's recent revival. That's not something he would have experienced with another team. He's a very good player, yes, but Gordon would have been just another guy had he signed elsewhere. He's beloved and marquee player in Kansas City. That has value to him.
As for the Royals, they bring back an excellent all around player who suits their style perfectly. Gordon is a contact hitter, he's a very good on-base player, and he's a great defender and baserunner. That is Royals Baseball 101 these days.
5. The Royals' window is right now.
The Royals won the pennant in 2014 and the World Series in 2015. Their collection of young talent puts them in position to contend again in 2016 as well. Bringing Gordon back was a key piece of the puzzle.
That collection of young talent is mighty impressive, but it's possible the team's window to win will only be open another two years. Here's the list of core Royals players who are scheduled to become free agents after the 2017 season:
Eric Hosmer
Mike Moustakas
Wade Davis
Alcides Escobar
Lorenzo Cain
Danny Duffy
Unless the Royals intend to swell their payroll into the $200 million range, keeping everyone almost certainly is not realistic. (The team had a $113 million payroll in 2015.)
Team owner David Glass and GM Dayton Moore are aware of this, and I'm guessing it gave them some extra incentive to re-sign Gordon. They want to maximize this window as much as possible. Their best chance to do so was by bringing Gordon back, even if they had to pay him a little more than they wanted.
6. The outfield market should start moving now.
Both Gordon and Jason Heyward are off the board, and yet there are still several top free agent outfielders available. Yoenis Cespedes and Justin Upton are the big names, but don't forget about Dexter Fowler, Gerardo Parra, and Denard Span. Still some quality players out there.
Among the teams in clear need of outfield help are the Tigers, Giants, Nationals, and Orioles. The White Sox, Cardinals, Cubs, and Indians could also look for an outfield upgrade. No one wants to be the last man standing in this game of free agent musical chairs. I expect the outfield market to really heat up now with Gordon off the board.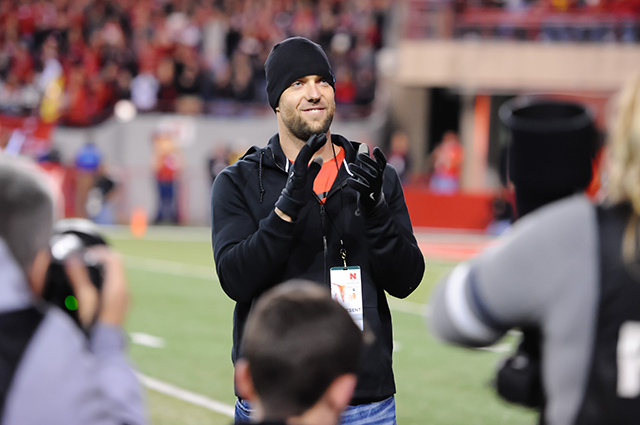 Show Comments
Hide Comments
Our Latest Stories
The two met earlier this season when Ledecky threw out a ceremonial first pitch

The 2015 NL MVP wasn't nearly as good in 2016, but the team around him was much better

Eduardo Nunez is not content to watch a ball fall harmlessly behind the plate for a strike
It's the Nats' third division title in the last five years

Runs are hard to come by for the Yanks right now

Jose Fernandez won't be starting on Sunday against the Braves as planned