Sabathia says he'll be an ace again, but do you trust him?
CC Sabathia has the toughness and determination of a No. 1 starter, but he didn't pitch like one this year. He believes he will next year. Do you?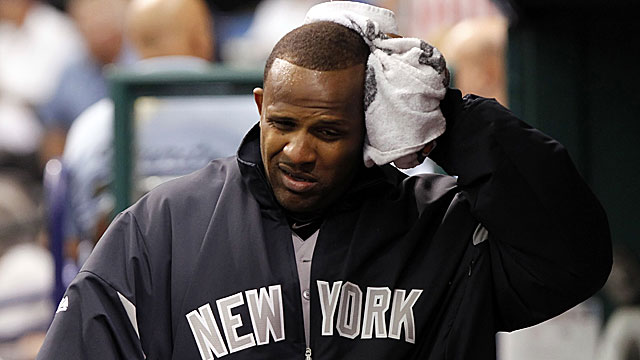 NEW YORK -- CC Sabathia has attitude of an ace. He has the paycheck of an ace.
But is he still an ace?
The answer this year, as he would readily admit, was no. The answer next year, he fully believes, will be yes.
Do you trust him?
The Yankees, with plenty of other problems and not many obvious answers, have little choice. If they're to overcome the grim predictions for 2014, it's near imperative that Sabathia pitch more like the guy who led them to a championship in 2009 than the guy who helped lead them out of the playoff race this year.
Again, he says with confidence that he can, and that he will.
It's what you would expect him to say, because even though Sabathia's fastball has sometimes gone missing, his determination and toughness never have. When he talks about "going out there and being a bully," you know what he means, because that's what Sabathia at his best looks like on the mound.
But can that Sabathia return? After all the innings and all the pitches and all the years, do he still have that in him, for more than a few scattered starts a season?
Sabathia and Yankees manager Joe Girardi contended Tuesday that he does, pointing to his start last Friday night against the Giants. Sabathia pitched one of his better games of the season, despite suffering a hamstring strain sometime around the second inning. He didn't tell anyone about the injury until after the game, even though it ended up being serious enough that the Yankees ruled it a Grade 2 strain and shut him down for the season.
He finished the year with 211 innings, his seventh consecutive season over 200. But he also finished with a career-high 4.78 ERA, which ranks 76th of the 81 major-league pitchers with enough innings to qualify for the ERA title.
Sabathia is down there with Dan Haren, Ian Kennedy, Jeremy Hellickson, Joe Saunders and Edinson Volquez. That hardly screams ace.
His strikeouts were down, his walks were up and he allowed more home runs than he ever had in a season.
And a year after battling elbow trouble that required surgery last fall, Sabathia has had no apparent injury to point to as the cause of the trouble (not that he ever pointed to the elbow problems, which he denied right to the end of last year's playoffs).
His velocity is down more than 2 mph from the end of the 2011 season. It didn't bounce back once his elbow was cleaned out, didn't bounce back at all this season. Even Sabathia doesn't count on it bouncing back now, instead pointing to how he was able to make his 92 mph fastball work against the Giants.
"I'm just talking about going out and pitching like I did the other day, grinding games out," he said.
It's easy to admire Sabathia, because he takes on so much responsibility and shuns excuses when things don't go right. Asked Tuesday if he feels responsible for the Yankees missing the playoffs, he didn't take offense at the question. Actually, he more or less agreed with the premise.
But it's always been easier for him to speak honestly about the past than to realistically predict the future. As admirable as that is, it does make it hard to trust when he says the old CC will return next season.
"I think I'll be back to myself," he said. "I know a lot of people have written me off, and said I've thrown too many innings. I'll still be accountable, and I'll still be the guy who signed here in 2009."
He'll be accountable, for sure. He'll have the mindset of an ace, the toughness of an ace.
But can he still perform like an ace?
It's hard to say with any confidence that he can.
Show Comments
Hide Comments