Sanchez setback puts Tigers, Dombrowski in terrible spot
Anibal Sanchez thinks he might be done for the season. Would this be a death knell for the 2014 Tigers? It just might.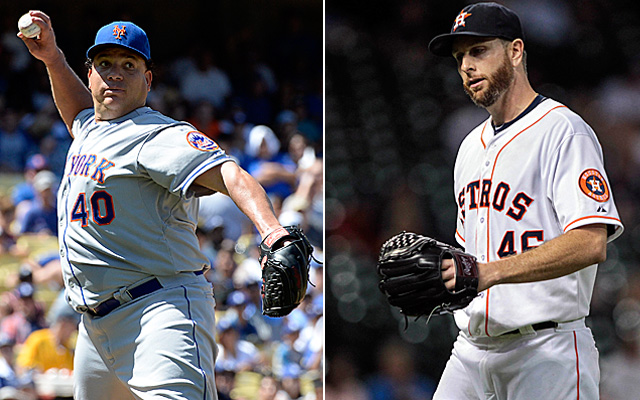 Tuesday, it was revealed that injured Tigers starting pitcher Anibal Sanchez has suffered a setback and he believes that his 2014 season is in jeopardy. If he really can't come back in the regular season, there's a very good chance the Tigers will miss the postseason for the first time since 2010.
At the very least, Tigers GM Dave Dombrowski is quite the predicament. As my colleague Mike Axisa noted just a few days ago, the lack of rotation depth has become a problem for the Tigers of late.
Given the relative inconsistency of the offense -- the Tigers rank at or near the top in the AL in most offensive categories, but have 0-2 runs eight times in the past 21 games -- and the mess that the back-end of the bullpen has been, the rotation is supposed to be the staple here.
Instead, behind Max Scherzer, David Price and Rick Porcello, the Tigers have the 2014 version of Justin Verlander -- which, whatever you want to call him, is vastly different than 2012-and-earlier Verlander -- and either Robbie Ray or Buck Farmer.
Well, unless Dombrowski makes a move. So long as he pulls off a waiver trade before September, the Tigers could place the new acquisition on thet postseason roster, provided they make it that far.
Bartolo Colon and Scott Feldman recently cleared waivers, too, though neither is overly appealing.
Colon was great in the AL last season for the A's, but he hasn't been nearly as good this season over in the easier NL. He's 41, so age has to be a concern, not to mention that he's due $11 million next year. Would the Tigers really take on that salary for next season when they're seemingly already close to being tapped out?
Feldman has a 4.34 ERA with a low strikeout rate for the Astros. He's also under contract for two more seasons after this one. Maybe if they get him for basically nothing, but he's definitely not an exciting option, especially when considered the two attached years of continued ties.
A.J. Burnett? He's coming off an excellent start against Washington, but he's been inconsistent all season and leads the majors in walks issued. His strikeout rate is way down and he's 37 years old. With a 4.30 ERA for an NL team, moving him over to the AL -- where he struggled big-time for the Yankees in 2010-11 -- is far from ideal.
Otherwise, the Cubs would surely give Edwin Jackson away at this point. Jackson was an All-Star for Detroit in 2009. Of course, he's on the DL now and has been pretty awful the past two years. That's dumpster diving, just as pretty much any other option out there would be at this point (keep in the mind the Dodgers just grabbed Kevin Correia, illustrating the slim pickings).
In just looking at the Tigers' roster, it's apparent their window of opportunity to win it all with this core is closing. There are age issues at several spots and, of course, Max Scherzer seems unlikely to be retained in free agency. Dombrowski knows all of this and definitely wants to swing for the fences right now. It's one of the reasons he went after Price prior to the trade deadline. In light of the Sanchez news, he probably needs to swing another move now. The problem is there aren't any real good options.
Show Comments
Hide Comments