Schedule figures to play a huge role in AL wild-card race this weekend
Favorable and unfavorable schedules have a chance to greatly impact a tight AL wild-card race this weekend.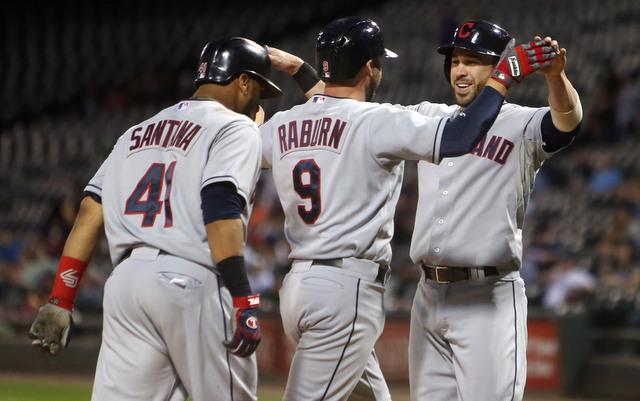 More MLB: Scoreboard | Standings | Probable Pitchers | Sortable Stats | Odds
As of Friday morning, there are five teams realistically in the hunt for the second AL wild-card spot with two weeks and two days remaining in the season. Here's a snapshot of the race: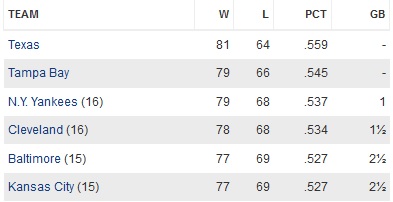 The Angels are the next closest team at 9 1/2 games back, so this is a five-horse race. There's plenty of time for any of those four teams to catch the Rays (or the Rangers, for that matter) and sneak into the postseason. Two and a half games is nothing. You can make that up in a weekend. In fact, this weekend figures to play a huge role in the wild-card race. Look at this schedule:
•Rays: Three games against Twins in Target Field.
•Yankees: Three games against Red Sox in Fenway Park.
•Indians: Four games against White Sox in US Cellular Field (starting Thursday).
•Orioles: Three games against Blue Jays in Rogers Centre.
•Royals: Three games against Tigers in Comerica Park.
The Yankees and Royals draw first place teams while the Rays, Indians and Orioles draw last place teams. Well, the Twins technically aren't a last place team (thanks White Sox!), but Minnesota has the third worst record in the AL at 63-82. They're a fourth place team playing like a last place team, for all intents and purposes.
Tampa Bay has struggled of late -- they've won just five of their last 18 games -- but they do have both Matt Moore and David Price going this weekend. That's a prime opportunity to get back on track and maintain the wild-card lead (if not increase it). The Indians and Orioles have similar opportunities to bludgeon a weak opponent these next few days, though they are playing catch-up. That's not easy to do.
The Yankees, meanwhile, will have to fend off a powerhouse Red Sox team that went to Yankee Stadium and decimated New York's pitching staff en route to winning three of four games last weekend. The Tigers haven't played all that well lately but they're dominant at home, with a 44-27 record and a +87 run differential. James Shields isn't scheduled to pitch this weekend either, so the Royals will have their hands full.
If things play out as expected, the Rays will maintain their lead while the Indians and Orioles take advantage of their schedules and leap over the Yankees and Royals. Things almost never play out as expected though, which is why this wild-card race is so fascinating. On paper, this looks like a crucial weekend that could dramatically impact the postseason race. In all likelihood, something completely surprising will happen and unexpectedly change the wild-card landscape.
Show Comments
Hide Comments